University of Maine Now Recruiting Early Childhood Opportunities (EChO) Scholars
The University of Maine College of Education and Human Development and the Center for Community Inclusion and Disability Studies are now accepting applications for the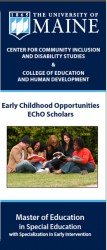 Early Childhood Opportunities (EChO) Scholars program. A limited number of high performing, full-time students enrolled in the Master of Education in Special Education with Specialization in Early Intervention are selected as EChO Scholars and receive full tuition support. Scholars must complete a service obligation or repay all or part of the cost of assistance. Application deadline is March 15, 2012.
For more information, please contact Assistant Research Professor Deborah L. Rooks-Ellis, Ph.D., EChO Scholars Co-Principal Investigator and Project Coordinator, deborah.l.rooks@maine.edu, (207) 581-2093 (v) or toll-free 800-203-6957 (v/tty). Applicants will be notified by April 15, 2012. EChO Scholars will begin the program in May 2012.
This tuition support is made possible by  a federal grant from the U.S. Department of Education, Office of Special Education Programs.