UMaine and New Hampshire LEND Community Fellows and Trainees Discuss Leadership Goals at UNH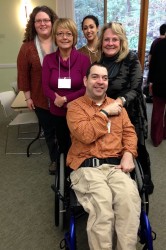 University of Maine Community Fellows and Trainees in the New Hampshire Leadership Education in Neurodevelopmental and Related Disabilities (LEND) Program Partnership recently joined their University of New Hampshire colleagues for an Interdisciplinary Leadership Intensive. Fellows, Trainees and LEND faculty members engaged in one-on-one discussions about students' leadership goals. ​The LEND program provide​s​ graduate level training​ for students and professionals related to interdisciplinary, family-centered, culturally competent systems of care for children and youth with developmental disabilities and their ​families.
Photo caption: back row to the front: Melissa Galioto, Lauren Armfield, Leslie Buehler, Kate Quinn Finlay, and Avery Olmstead.
Photo courtesy of Jake Kenyon.