Head Start Matters: 2014 Annual Report Highlights Vital Contributions to Early Care and Education System in Maine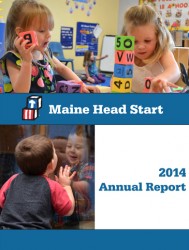 The Maine Head Start Directors' Association and the Maine Head Start State Collaboration Office have published their 2014 Annual Report on Head Start and Early Head Start in Maine.
For 50 years, Head Start has provided services to support the healthy development of Maine's most vulnerable children and their families. The model, developed in 1965 to provide children with a "head start," is synonymous with a focus on school readiness. The 2014 Annual Report highlights Head Start's vital contributions to the early care and education system in Maine.
Download A Snapshot of Head Start in Maine for the 2012-2013 Program Year (PDF) here.
Download the Maine Head Start 2014 Annual Report (8MB PDF) here.