North East Advocates Together (NEAT) Peer-to-Peer Project Drafts State Plans in Concord, NH
Self-advocates and Developmental Disabilities Network allies from six northeastern states recently gathered for a three-day meeting in Concord, NH. The partners are members of the federally funded North East Advocates Together (NEAT) Peer-to-Peer Connections Technical Assistance Project, representing self-advocacy organizations from Maine (Speaking Up For Us of Maine); Massachusetts (Massachusetts Advocates Standing Strong); New Hampshire (People First of New Hampshire); New York (Self Advocacy Association of New York State); Rhode Island (Advocates in Action Rhode Island, Inc.); and Vermont (Green Mountain Self-Advocates).
Self-advocates in each state conducted a needs and strengths assessment prior to their arrival in Concord and came prepared to request technical assistance from other states in their areas of need and to provide technical assistance (as requested) in their areas of strength. Common topics included fundraising, legislative advocacy, leadership development, peer mentoring, recruitment of new members, especially youth; technology training, and the use of social media for education, outreach and advocacy. Prior to the conclusion of the meeting, each state drafted a detailed plan of action with timelines for follow-through.
​The NEAT​ ​Peer-to-Peer Connections Technical Assistance Project is funded by the U.S. Department of Health and Human Services, Administration on Intellectual and Developmental Disabilities, Grant No. 90DN0300-01-00 and administered by Vermont Protection & Advocacy (Disability Rights Vermont). Hilary Clark ​ serves as the ​NEAT Outreach Coordinator​ and ​Skye Peebles ​serves as the​ NEAT Administrative Coordinator​.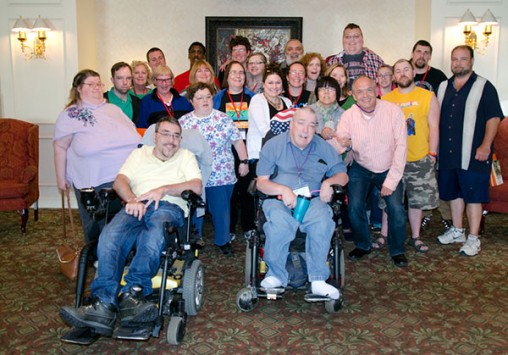 Photo caption: NEAT Peer-to-Peer Connections Members: First row (left to right): Michael Rogers and Michael Kennedy. Second row: Amber Parshley, Tammy Mills, Emily Michaud, Kim Christensen, David Ouellette, Jon McGovern and unknown). Third row: Andrew Whalen, Dianne Ross, Patty Quatieri, Karen Topper, Anne Fracht, Monique Stairs, Sophia Roberts, Deb Kney, Skye Peebles, Jana Weber Lizotte, and Randy Lizotte. Back row: Keith Wilcox, Max Barrows, Hilary Clark, Ed Bielecki and John Fenley. (Not pictured: Clint Perrin and Sandra Horne).