New Director Named for Center for Community Inclusion and Disability Studies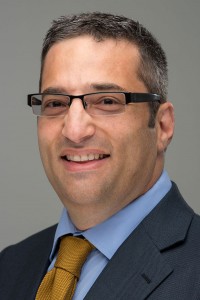 Vice President for Research and Dean of the Graduate School Carol H. Kim has named Alan B. Cobo-Lewis, Ph.D., as the director of the University of Maine Center for Community Inclusion and Disability Studies, Maine's University Center for Excellence in Developmental Disabilities (UCEDD). He becomes the Center's second director in 23 years, succeeding founding director, Lucille Zeph, Ed.D., who retired in June 2015.
Cobo-Lewis earned a bachelor's degree in psychology in 1988 from the University of Miami and a Ph.D. in psychology in 1992 from the University of Wisconsin, where he was a National Defense Science and Engineering Graduate Fellow. In 1998, he joined the faculty at UMaine, where he is currently associate professor of psychology.
Cobo-Lewis has served as principal investigator on several federal and state grants and contracts, including research projects sponsored by the National Science Foundation, the National Institutes of Health and the Jewish Guild for the Blind.
Under a current contract with the Maine Department of Health and Human Services, Cobo-Lewis's team manages the website and database for Maine's child care quality rating and improvement system, as well as Child Care Choices, Maine's online search tool to help parents find high quality child care. He also serves as the local evaluator for Educare Central Maine, a member of a nationwide network of 20 high quality preschools serving at-risk children birth to age 5.
His work has appeared in a number of journals including Developmental Psychology, Vision Research, and Maine Policy Review. Cobo-Lewis's current research interests include how to use computers to assess development of communication in infants and toddlers and how to measure the quality of child care. He has a longstanding interest in promoting evidence-based approaches to education and policy, especially regarding persons with disabilities.
Cobo-Lewis's involvement with University Centers for Excellence in Developmental Disabilities (UCEDDs) began nearly 30 years ago: while an undergraduate, he participated in a research project at the University of Miami Mailman Center for Child Development; and as a graduate student, he worked with the University of Wisconsin Waisman Center for Human Development. Cobo-Lewis returned to the Mailman Center in 1993 to complete his postdoctoral work in the department of pediatrics. In recent years, he has led a number of community-engaged research projects involving faculty and staff from the Center for Community Inclusion and Disability Studies.
As a parent of two children, one of whom has a disability, Cobo-Lewis has been an active member of the disability community in Maine for several years. He has served as a long-time member and leader of the Maine Developmental Disabilities Council, has earned the respect of legislators and advocates for his work in Maine disability policy, and has been honored with a number of awards for his advocacy, including the University of Maine Presidential Public Service Award in 2008.
The Center for Community Inclusion and Disability Studies, established in 1992, is an interdisciplinary research unit of UMaine and part of a national network of 67 centers congressionally authorized under the Developmental Disabilities Assistance and Bill of Rights Act of 2000. The Center conducts interdisciplinary education, research, and community engagement activities to positively affect the lives of people with intellectual and developmental disabilities and their families throughout Maine and beyond.