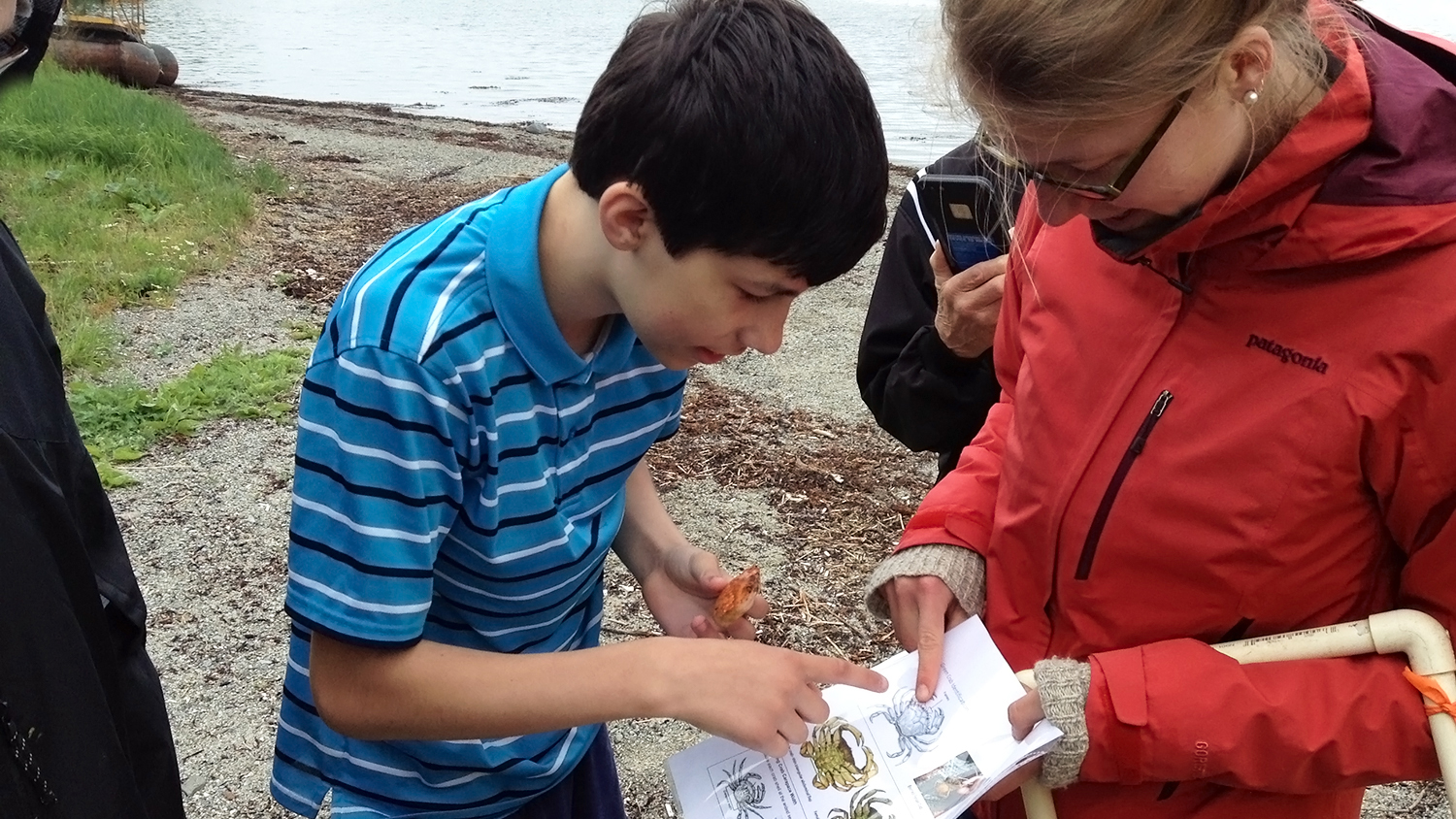 SEANET Student Interns Gather Data on Invasive Green Crabs
The Center for Community Inclusion and Disability Studies, with funding from Maine EPSCoR/SEANET, is partnering with the Community Environmental Health Laboratory (CEHL) at MDI Biological Laboratory to train and engage middle/high school students with disabilities from coastal Hancock County school districts in intertidal census work. (Photo above shows a student intern identifying a crab species with Anna Farrell.) CEHL works to identify and help remedy threats to public health and water quality on and around Mount Desert Island. Enrolled students are offered paid internships and receive training in the identification of invasive species, data collection and data management. Student interns, supervised onsite by mentors, follow a scientific protocol and receive a variety of hands-on worksite skills.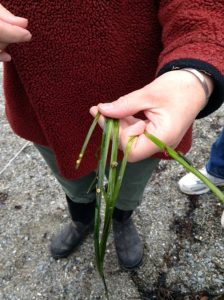 One of the main projects of the CEHL is eelgrass restoration: "eelgrass beds provide habitat for a diversity of marine organisms, and serve as a nursery for a variety of juvenile fish including winter flounder, hake, pollock, and cod, as well as larval lobsters, mussels, and crabs." This summer, SEANET student interns are involved with CEHL's Intertidal Green Crab Census Project at Hadley Point. Green crabs are an invasive species in Maine and have been cited as a possible culprit of eelgrass decline in Frenchman Bay. Green crab surveys are done to obtain information on the extent of the invasion, to show a size distribution of the population, to show changes in the population over time, and to determine which habitats the crabs prefer. More information and photos from the Green Crab Census Project are available on the CCIDS Facebook page.
Janet May, CCIDS' Coordinator of Transition and Adult initiatives, is the lead on this partnership. Dr. Jane Disney, Senior Staff Scientist and Director of CEHL; and Anna Farrell, Program Coordinator at CEHL; trained the student interns on the scientific protocol used by the Department of Marine Resources for green crab surveys. CEHL also developed a pre- and post-project survey to gauge student learning. CEHL uploads community-collected data into a citizen science database, Anecdata, where it can be viewed, downloaded and analyzed by anyone interested in the data.