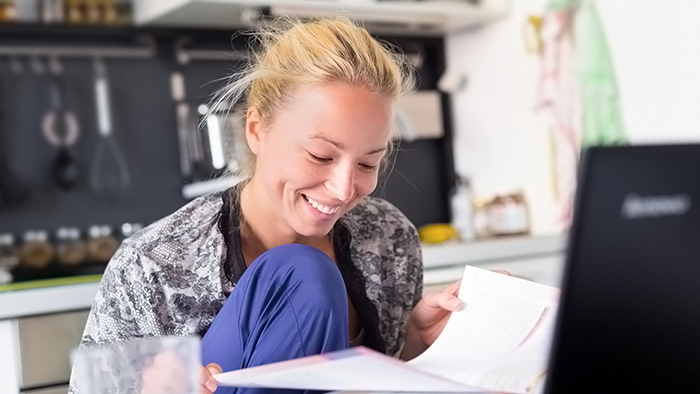 Explore and Analyze Disability Policy – DIS 530 (Online) Fall 2016
(Photo above shows a female student taking an online course from her home.)
Class Number: 10624
Instructor: Elizabeth DePoy, Ph.D.
Location: Web/Online Course
Credits: 3
This course focuses on three learning objectives:
Analyze the historical context of current disability policy.
Critically examine the major federal legislative policies that guide disability responses.
Apply, compare, and contrast multiple models of policy analysis to the examination of policy and identification of needed policy change and policy advocacy.
The course begins with an examination of multiple policy analysis models, using them to frame thinking and precise analysis of a wide range of ethical policy dilemmas including but not limited to Wrongful Life and Wrongful Birth, Physician-Assisted Suicide, reasonable accommodation, and distributive justice issues.
Within the course, students are encouraged to develop individualized exploration and analysis of disability and health policies that are of particular interest and relevance to their area of scholarship, discipline, or professional area of practice.
DIS 530 Disability Policy may be taken as a stand alone, single course or as part of the 4-course Graduate Certificate in Interdisciplinary Disability Studies.
For more information about this course or any of the graduate Interdisciplinary Disability Studies courses, please contact Dr. Stephen F. Gilson, Graduate Coordinator and Professor of Interdisciplinary Disability Studies at 207.581.1263 (v) or email: stephen.f.gilson@maine.edu