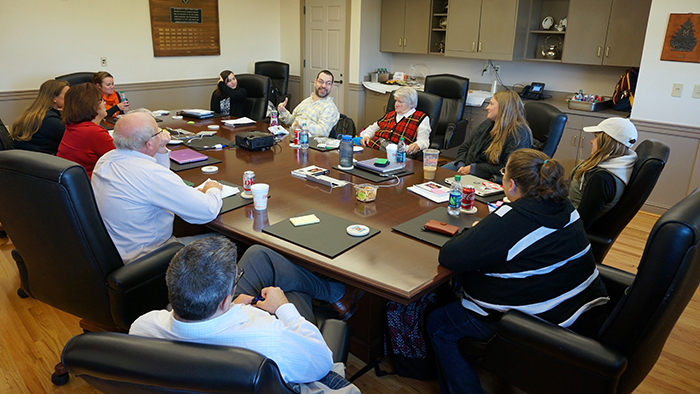 CAC Members Share Lived History of Disability with UMaine LEND Trainees
Two members of the Center for Community Inclusion and Disability Studies' Community Advisory Committee (CAC) recently shared their lived history of disability with University of Maine trainees and faculty in the New Hampshire-Maine Leadership Education in Neurodevelopmental and Related Disabilities (LEND) Program, as part of a Leadership Intensive on the history of disability. (The photo above shows, from top of the photo moving clockwise: Maggie Pierce (trainee); Avery Olmstead (CAC); Maryann Preble (CAC); Hope Duncanson (trainee); Janessa Grant (trainee); Moriah Geer (trainee); Alan Cobo-Lewis (LEND Co-PI and UCEDD Director); Alan Kurtz (faculty); Susan Russell (interdisciplinary training director – ME); Kassie Stevens (trainee); and Clelia Siguad (trainee).
In lieu of the weekly two-state LEND seminar, trainees and faculty in NH and ME simultaneously, but separately, explored the trajectory of the disability movement in their respective states and nationally. A central exercise of the Intensive was to construct a historical timeline on developmental disabilities from 1900 to the present and to note how parallel developments in education, legislation and social attitudes intersected with and impacted the disability timeline. Maine trainees and faculty also examined the closing of Pineland, Maine's former state institution for people with developmental disabilities.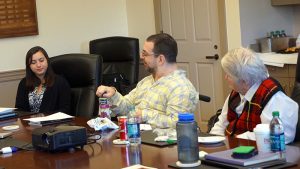 A generation apart, Community Advisory Committee members Avery Olmstead and Maryann Preble candidly shared their experiences of living with a disability. Avery, a 45-year old man with a graduate degree and cerebral palsy, spoke of parents who refused to institutionalize him and a mother who fought and sacrificed for his inclusion in public education in every location his military father was stationed. Maryann, a former resident of Pineland, went on to marry and now lives independently in her community. (Photo: Maggie Pierce (trainee), Avery Olmstead and Maryann Preble.)
The New Hampshire-Maine LEND Program is supported by a grant (#T73 MC00024) from the Maternal and Child Health Bureau, Health Resources and Services Administration (HRSA), U.S. Department of Health and Human Services, and administered by the Association of University Centers on Disabilities (AUCD).