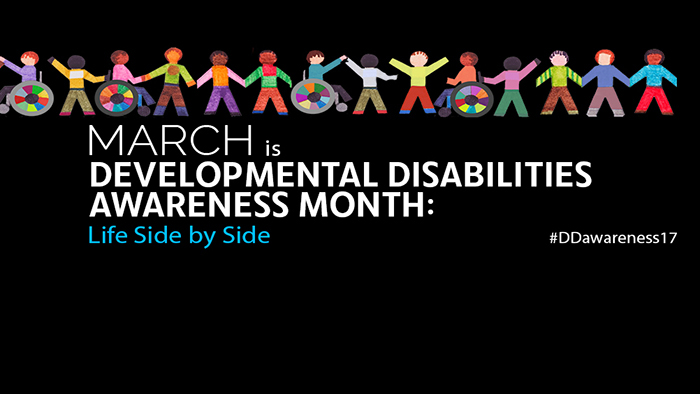 Life Side-by-Side: Developmental Disabilities Awareness Month
Since 1987, March has been designated as Developmental Disabilities Awareness Month. For the second year in a row, three national organizations, representing the three partners in each state and territory authorized under the Developmental Disabilities Assistance and Bill of Rights Act of 2000 (the DD Act), are collaborating on a social media campaign highlighting inclusion, Life Side-by-Side.
The National Association of Councils on Developmental Disabilities (NACDD) represents State Councils on Developmental Disabilities. Councils are self-governing organizations charged with identifying the most pressing needs of people with developmental disabilities in their state or territory. The 56 Councils are committed to advancing public policy and systems change that help these individuals gain more control over their lives. Maine's state council is the Maine Developmental Disabilities Council.
The Association of University Centers on Disabilities (AUCD) represents University Centers for Excellence in Developmental Disabilities Education, Research, and Service (UCEDDs). The 68 UCEDDs are a national network of independent but interlinked centers that serve as liaisons between academia and the community. UCEDDs conduct interdisciplinary education, research, training, technical assistance and information sharing activities to positively affect the lives of people with intellectual and developmental disabilities and their families. Maine's UCEDD is the University of Maine Center for Community Inclusion and Disability Studies.

The National Disability Rights Network (NDRN) represents Protection and Advocacy Systems (P&As). The P&As work at the state level to protect individuals with developmental disabilities by empowering them and advocating on their behalf. There are 57 P&As in the United States and its territories, and each is independent of service-providing agencies within its state. Maine's protection & advocacy agency is Disability Rights Maine.
Visit the NACDD, AUCD and NDRN social media sites during the month of March for daily stories, photos, videos, or resources. Search the Twitter hashtag #DDawareness17 to find the top posts from the Life Side-by-Side campaign.
NACDD Facebook: www.facebook.com/ NACDD
NACDD Twitter: www.twitter.com/NACDD
AUCD Facebook: www.facebook.com/ AUCDnetwork
AUCD Twitter: www.twitter.com/ AUCDnews
NDRN Facebook: www.facebook.com/ NDRNadvocates
NDRN Twitter: www.twitter.com/ NDRNadvocates