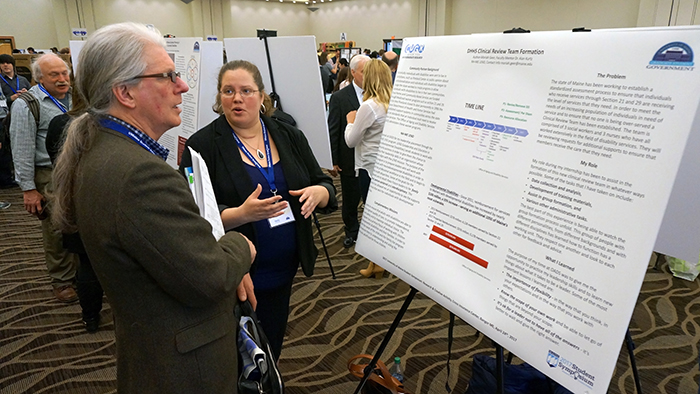 NH-ME LEND Trainees and DIS Students Present Research at UMSS17
On April 24th, 2017 over 1,200 UMaine students presented their research and creative works at the 2nd joint graduate and undergraduate University of Maine Student Symposium (UMSS) at the Cross Insurance Center in Bangor, ME. UMaine trainees from the 2016-2017 New Hampshire-Maine Leadership Education in Neurodevelopmental and Related Disabilities (NH-ME LEND) Program and students from Interdisciplinary Disability Studies presented their research and work in progress. Photos of the presentations appear in the CCIDS Facebook photo album, NH-ME LEND Trainees and Disability Studies Students at UMSS17.
2016-2017 NH-ME LEND Trainee Poster Presentations:
Hope M. Duncanson, B.A. – Reaching Local Community with the Message of Developmental Milestones and Early Identification of Autism. (Faculty mentor: Dr. Alan Kurtz)
Moriah Geer, B.A. – DHHS Clinical Review Team Formation. (Faculty mentor: Dr. Alan Kurtz) Moriah is pictured above with UMSS17 Judge Timothy Cole.
Jenessa Grant, B.A. – Services for Maine Families: Expansion of Maine Coalition for Housing and Quality Services Timeline. (Faculty mentor: Dr. Alan Kurtz)
Margaret M. Pierce, B.A. – Evaluation of the Maine Child Development Services-Part C Improvement Plan. (Faculty mentor: Dr. Alan Kurtz)
Clelia Sigaud, M.S. – Primary Care Transition Planning for Young Adults with Special Needs in Maine: A Preliminary Survey of Pediatric Providers. (Faculty mentor: Dr. Alan Kurtz)
Kassie Stevens, MSW – Testing the Effectiveness of Person-Centered Planning in Maine Adults With Developmental Disabilities. (Faculty mentor: Dr. Alan Kurtz)
Interdisciplinary Disability Studies' Student Poster Presentations:
Harli Maxwell, Megan Morey & Kendall Pike – Disability in Advertising. (Faculty mentors: Elizabeth DePoy and Stephen Gilson)
Jaime Clifford and Students in DIS 300 – Disability: Interaction of Human Diversity and Global Environments – Flippin' Our Brains: Disability Benefits Everyone. (Faculty mentors: Stephen Gilson and Elizabeth DePoy)
Faith Perez, Renee Stronach, and Students in DIS 450 – Disability: Population-Environment Diversity – Disability Imagery: A Bastion of Social Change. (Faculty mentors: Elizabeth DePoy and Stephen Gilson)