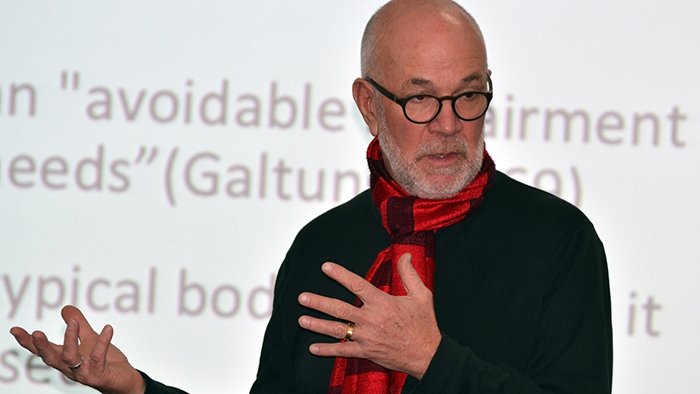 Stephen Gilson Awarded University of Maine Trustee Professorship
Stephen F. Gilson, Ph.D., University of Maine Professor of Social Work and Coordinator and Professor of Interdisciplinary Disability Studies, has been awarded a University of Maine Trustee Professorship for 2017-2018.
Gilson's research, Social Practice Art: Countering Cultural Violence Against Aging, Disabled Populations, will be conducted over the 2017-18 academic year. The project involves interviewing and analyzing the narratives from multiple artists across the globe who use their craft to elicit social change primarily focused on decreasing stigma, discrimination and segregation of disabled and elder populations. The aim is to supplant negative stereotypes with an understanding of disability and aging as valued elements of human diversity. "This work is a passion for me," Gilson said, "and I expect will be instrumental in advancing my work in aesthetic mobility product development and design." Gilson and Elizabeth DePoy, Ph.D., are co-inventors of AfariTM, a three-wheeled, aesthetically designed, adaptive mobility and fitness device.
Gilson was nominated by Sandra Butler, Ph.D., UMaine Professor of Social Work; and Jeffrey St. John, Ph.D., UMaine Senior Associate Provost for Academic Affairs.
Trustee Professorships, approved by the Board of Trustees in July 1998, are devoted exclusively to honoring and supporting outstanding University of Maine System (UMS) faculty already making noteworthy contributions to academic excellence on their campuses and within the System. The Trustee professorship awards provide release time and support for faculty to undertake research and other scholarly/creative endeavors not feasible within their normal workload. This program is designed to assist UMS institutions in recognizing, rewarding, and retaining exceptional scholars, and, in so doing, promoting excellence in teaching, scholarship, and research throughout the University of Maine System.