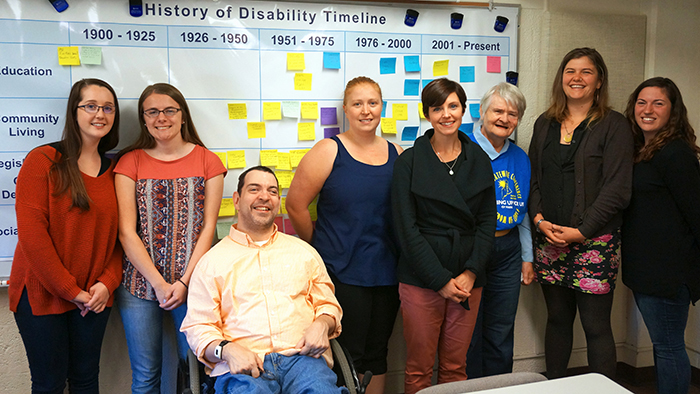 CAC Members Share Lived History of Disability with NH-ME LEND Trainees

As part of a Leadership Intensive on the history of disability, t​wo members of the​ University of Maine Center for Community Inclusion and Disability Studies' Community​ ​Advisory Committee (CAC) recently shared their lived history of disability with U​Maine trainees and faculty in the New Hampshire-Maine ​Leadership Education in Neurodevelopmental and Related Disabilities (NH-ME ​LEND​)​ Program​.​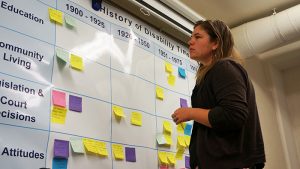 In lieu of the weekly two-state LEND seminar, trainees and faculty in NH and ME simultaneously, but separately, explored the trajectory of the disability movement in their respective states and nationally. A central exercise of the Intensive was to construct a historical timeline on developmental disabilities from 1900 to the present and to note how parallel developments in education, community living, ​legislation and social attitudes intersected with and impacted the disability timeline. Maine trainees and faculty also ​discussed the closing of Pineland, Maine's former state institution for people with developmental disabilities.
A generation apart, Community Advisory Committee members Avery Olmstead and Maryann Preble candidly shared their experiences of living with a disability. Avery, an Old Town resident ​with a graduate degree and cerebral palsy, spoke of parents who refused to institutionalize him and a mother who fought and sacrificed for his inclusion in public education in every location his military father was stationed. Maryann, a former resident of Pineland, went on to marry and now lives independently in​ the Augusta area.
Top photo caption:​ (Back row standing, left to right): LEND trainees Holly Hegarty, Taylor Harris, Olivia Shaw, Jodie Hall; guest speaker Maryann Preble; trainees Emily Hill and Madeline Ruffin. (Front row): Guest speaker, Avery Olmstead.