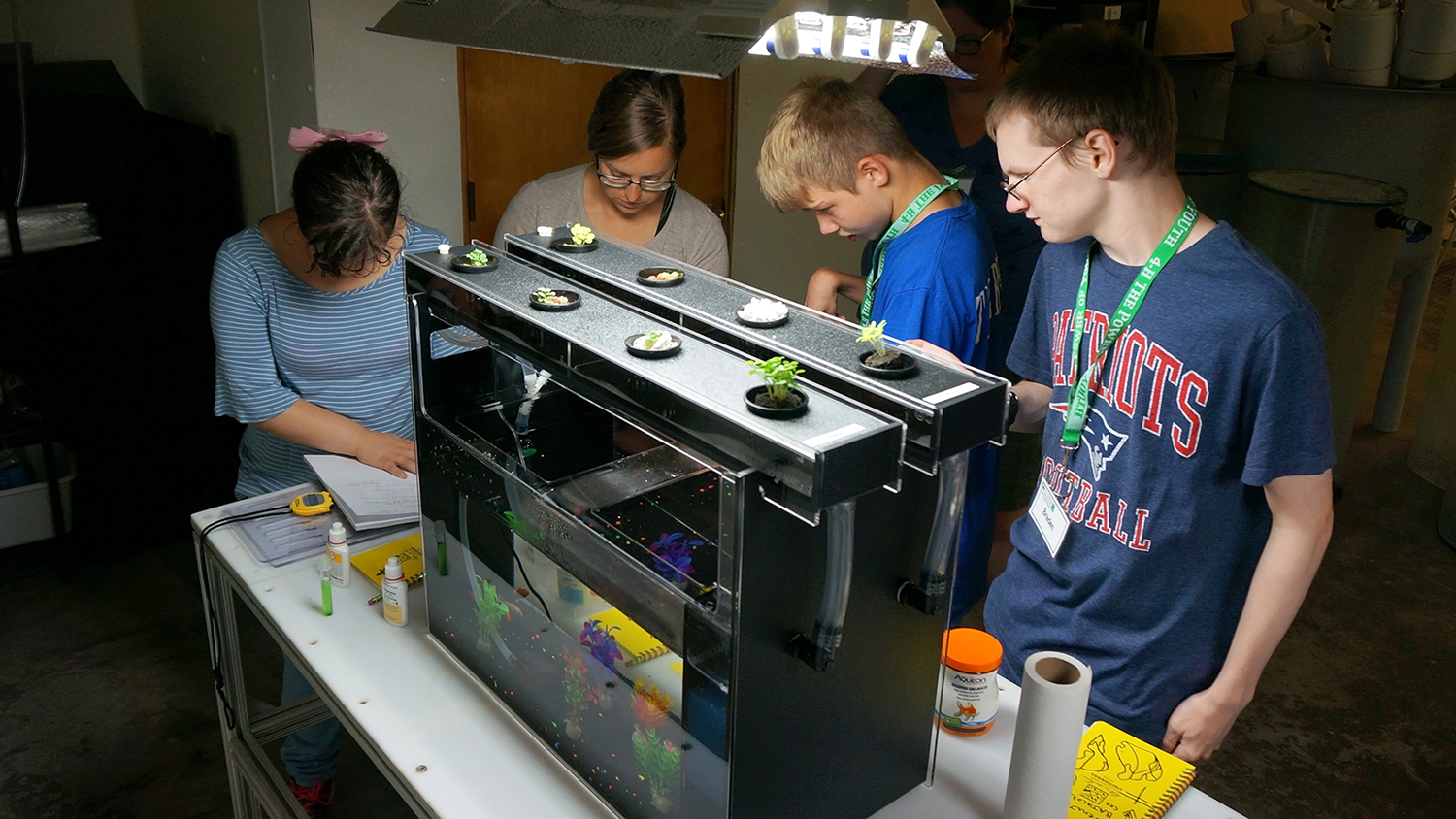 SEANET Student Interns Explore Aquaponics and Aquaculture Research
The University of Maine Center for Community Inclusion and Disability Studies (CCIDS), with funding from Maine EPSCoR/SEANET, is partnering with Hancock County Cooperative Extension 4-H Youth Development Program, and the Center for Cooperative Aquaculture Research on a six-week summer internship experience for high school students with disabilities. The project, Exploring Aquaponics 2018, will provide enrolled students with hands-on learning opportunities in aquaponics and related topics. (Student interns working in the lab are pictured above.) Aquaponics is a system of aquaculture in which the waste produced by farmed fish or other aquatic animals supplies nutrients for plants grown hydroponically, which in turn purify the water.
The students meet once a week for six weeks. Each weekly session runs approximately 2.5 hours and involves team as well as individual science activities. Research projects are designed to teach the essential elements of aquaponics and encourage students to generate their own research questions. These interns will gain understanding of topics such as water quality, photosynthesis, fish and plant nutrition, and how small projects are brought to scale. They will also learn about the growing aquaculture industry in Maine and the employment opportunities in related fields. This internship experience includes a trip to the University of Maine to visit the Aquaculture Research Center and Student Accessibility Services.
More photos from Exploring Aquaponics 2018 are available on the CCIDS Facebook page.
Janet May is CCIDS' Coordinator of Transition and Adult initiatives and serves as the Exploring Aquaponics project coordinator. Carla Scocchi is a 4-H Youth Development Professional with Hancock County Cooperative Extension/4-H with a background in experiential STEM education and classroom teaching. Melissa Malmstedt is a Research Assistant and Broodstock Manager for the Center for Cooperative Aquaculture Research on Taunton Bay in Franklin, ME.