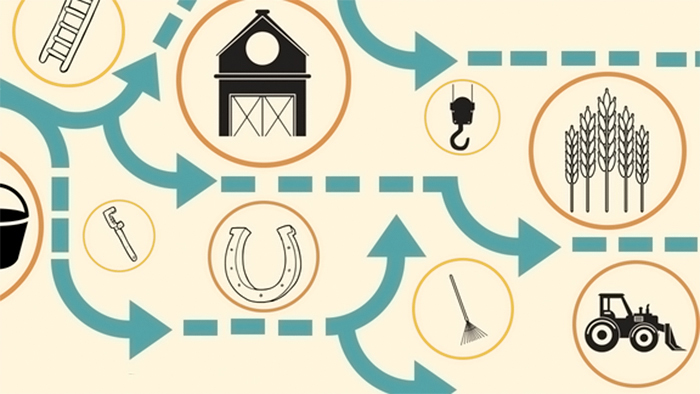 DePoy's Passion Fuels Research About Aging Maine Farmers
Source: UMaine Research IMPACT Monthly Newsletter (August 2018)
The unique aspects of Elizabeth DePoy's horse farm, Chapter Three Farm, in Newburgh, Maine are not immediately noticeable. Equipment is lined up neatly along the walls. Hay is stacked in convenient locations. There are the usual sounds of shovels cleaning stalls and horses chomping their mid-day meal. DePoy and her husband, Stephen Gilson, exchange witty banter as they perform the daily activities of keeping a horse farm running. As eyes adjust to the dark, cool interior of the barn, the slight adaptations in the barn and the equipment begin to emerge.
Tools have been adapted to tasks different than those for which they are typically used to avoid injury and added stress. The dustpan has an extra-long handle, an electric winch is used to raise and lower the hay conveyor, and the John Deere tractor has easy-to-change attachments for various tools. Wheelbarrows (one with a motor for self-propelling) and other equipment have easy-to-maneuver wheels and specially-installed handles. Ramps are located throughout the barn.
If not for their ingenuity and determination, the Chapter Three Farm – which is their home – would not exist. DePoy and Gilson conceptualized the multitude of adaptations to equipment in order to live their dream and independently operate the farm as they age. Read the complete article about Liz DePoy's research here.