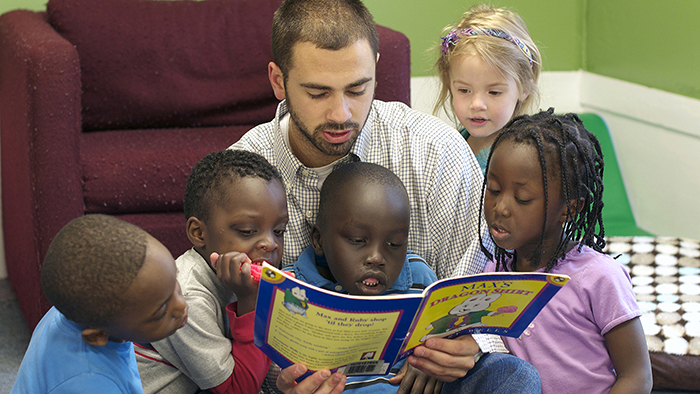 University Center for Excellence in Developmental Disabilities receives $2.7 million award
The University of Maine Center for Community Inclusion and Disability Studies (CCIDS) has been awarded a total of $2.7 million in administrative core funding for the five-year grant period 2018–2023 from the U.S. Department of Health and Human Services, Administration on Disabilities. FY2019 represents our 27th year of continuous federal competitive core funding as Maine' University Center for Excellence in Developmental Disabilities (UCEDD).
As Maine's UCEDD, the center is part of a national network ​of university-based centers that are congressionally authorized under the Developmental Disabilities Assistance and Bill of Rights Act of 2000. There are currently 67 UCEDDs, at least one in every U.S. state and territory.
CCIDS is a partnership of people that brings together the resources of the community and the university to enhance the lives of individuals with disabilities and their families. To achieve this mission, the center offers interdisciplinary pre-service preparation and continuing education of students; provides training, technical assistance, and consultation to the community; conducts research, including evaluation and policy analysis; and creates and communicates accessible and culturally competent information relevant to persons with disabilities and their families.
The center's four areas of emphasis for the 2018–23 grant period are early intervention, inclusive education, quality child care (informed by social emotional and trauma-informed approaches), and employment.
Four facts about people with disabilities in Maine:
Rate of Disability — Among people in Maine under age 65, 11.9 percent have a disability — a rate of 1.4 times the national average (U.S. Census Bureau, 2018).
Students with Disabilities — In Maine, 17.2 percent of students age 6–21 enrolled in public schools are identified as a student with a disability under the Individuals with Disabilities Education Act (IDEA), versus 13.1 percent nationwide (Office of Special Education Programs, 2016).
Poverty Rate — Among people age 16–64 with any disability, Maine's poverty rate is about one-fifth higher than the national average (32.5 percent vs 26.9 percent). Among people age 16–64 with a cognitive disability, Maine's poverty rate is also about one-fifth higher than the national average (38 percent vs 32 percent). (Winsor et al., 2016.)
Employment — In Maine, people age 16–64 with any disability are employed at only four-fifths the national average (27.7 percent vs 34.3 percent). The gap is even wider for people age 16–64 with a cognitive disability, whose employment rate in Maine is only about two-thirds the national average (17.2 percent vs 24.8 percent). (Winsor et al., 2016.)