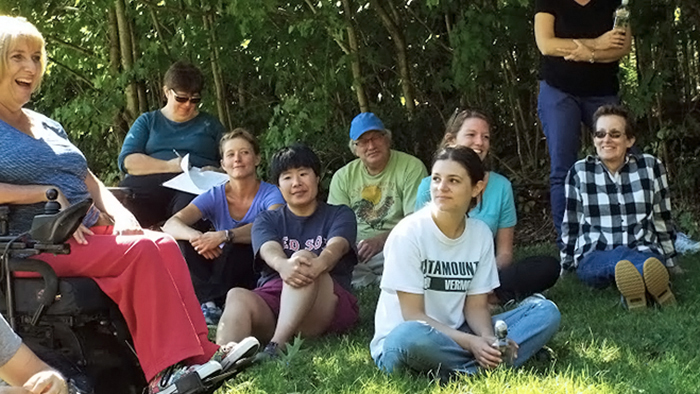 Apply Today: Limited Spaces Remain for 2019-2020 NH-ME LEND Program
The New Hampshire-Maine Leadership Education in Neurodevelopmental and Related Disabilities Program (NH-ME LEND) is a collaboration among the Geisel School of Medicine at Dartmouth, the University of New Hampshire Institute on Disability, and the University of Maine Center for Community Inclusion and Disability Studies.


The mission of NH-ME LEND is to prepare leaders to enter the field of maternal and child health in order to improve the lives of children with neurodevelopmental disabilities and their families, with particular attention to the needs of children with autism spectrum disorder. LEND trainees from a wide variety of professional disciplines (e.g., developmental pediatrics, early childhood education, social work, psychology, occupational therapy, health management and policy, and speech language pathology, etc.) engage in graduate-level training related to interdisciplinary, culturally competent systems of care for children and youth with developmental disabilities and their families.
University of Maine trainees participate remotely in the weekly NH-ME LEND seminar through the use of eLearning and videoconferencing technology.
Applications are now being accepted for the 2019-2020 New Hampshire-Maine Leadership Education in Neurodevelopmental and Related Disabilities (NH-ME LEND) Program at the University of Maine.
Eligible candidates for this program include the following:
Graduate students in audiology, early childhood special education, nursing, nutrition, occupational therapy, pediatrics, public health, physical therapy, social work, speech language pathology, family studies, or other related disciplines.
Professionals working in the community supporting children with special health care needs and their families (i.e., early support and services, school administration, general and special educators, related service professionals, and healthcare providers).
Family members of a child or youth with a disability and/or special health care needs.
Applicants must have earned a minimum of a bachelor's degree and be a citizen or non-citizen national of the United States or lawfully admitted for permanent residence.
Download the NH-ME LEND Program brochure (PDF) here.
Do you have more questions about the NH-ME LEND Program? Download the Frequently Asked Questions (FAQ) document here.
The application deadline is July 15, 2019.
Competitive scholarships are available to qualified applicants with funding provided by the Maternal and Child Health Bureau.
The NH-ME LEND Program is supported by a grant (# T73MC32393) from the Maternal and Child Health Bureau, Health Resources and Services Administration (HRSA), U.S. Department of Health and Human Services;and administered by the Association of University Centers on Disabilities (AUCD).