Step Up Program Helps High School Students with Autism Prepare for College
"What will my son or daughter with autism need to make the transition from high school to college?" This was a common concern for parents of five high school students who participated in the Step Up program; a five-week residential living and learning experience at the University of Maine this summer.
The pilot program focused on high school juniors or seniors with an autism spectrum diagnosis who are also transition clients being served by the Maine Department of Labor's Division of Vocational Rehabilitation. It was designed to help them gain skills and experience in a number of areas that are associated with postsecondary education success for students with disabilities. These areas included learning social skills, practicing self-determination, attending a college-level class, campus living, and paid employment.
"We are serving a growing number of youth and young adult clients who are preparing for postsecondary education and employment," said Libby Stone-Sterling, Director of Vocational Rehabilitation. "We recognized a need for new programming opportunities here in Maine to assist them to reach those education and employment goals."
Step Up was modeled on the successful College Prep program run by the Department's Division for the Blind and Visually Impaired. It was sponsored by the Division of Vocational Rehabilitation, in partnership with the University of Maine Center for Community Inclusion and Disability Studies; College of Education and Human Development; Division of Lifelong Learning; Maine Autism Institute for Education and Research; Psychology Department; and Student Accessibility Services. Additional funding support was provided by the Maine Developmental Disabilities Council.
Every weekday from early July through early August, the five students in the pilot program lived on campus in Somerset Hall with the support and guidance of a resident advisor. Just like other university students, they had their meals in the dining commons. On weekends, they returned home.
Student Accessibility Services provided information on available resources for the students and their families and coordinated disability accommodations based on each student's individual needs. "The Step Up Program is a great opportunity for students with autism to experience college and its environment," said Amy Sturgeon, Assistant Director.
The students learned firsthand how disability services in college differ from high school: it is the student's responsibility to self-disclose his or her documented disability in order to request and receive reasonable accommodations at the postsecondary level.
Two days a week, students participated in a seminar conducted by Alan Kurtz and Janet May from the Center for Community Inclusion and Disability Studies that was designed to help them expand their self-determination skills – skills which are strongly correlated with success in postsecondary education and employment. In the seminar, students practiced setting postsecondary education goals, identified strategies for achieving those goals, and developed an initial college success plan.
All five students went on to successfully complete Psychology 100, a college freshman-level three-credit course; a key component of the Step Up curriculum.
Students left the program with a wide variety of tools that they and their families could continue to use as they expand and revise their plans for postsecondary education success. "The Step Up program sounded like just what we all needed to gather this information," said one parent. "It was an incredible opportunity."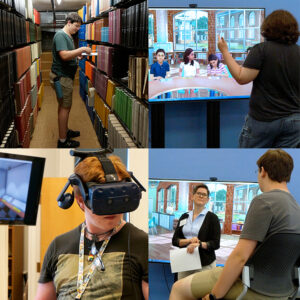 Students also received training on communication and interpersonal skills. Sarah Howorth, Assistant Professor of Special Education in the College of Education and Human Development and the Maine Autism Institute for Education and Research, has been conducting a study on social skills intervention for young adults with high functioning autism spectrum disorder.
Howorth led the training and practice sessions on communication and interpersonal skills. "The Step Up participants had the opportunity to role-play basic conversation skills such as 'Starting Conversations,' 'Entering Conversations' and 'Exiting Conversations,''' said Howorth. "Not only did they role-play these skills with each other, but we leveraged the TeachLivE technology we had in the college to allow them the opportunity to practice having virtual rehearsals of their newly learned conversational skills."
The TeachLivE lab in Shibles Hall is a mixed-reality, immersive space where education majors can practice teaching and classroom management techniques on avatars. TeachLivE features five student avatars with distinct personalities and behavior traits. The age of the avatars can be changed to suit the needs of the simulation.
"The benefit of [using TeachLivE]," said Howorth, "was that [the students] were able to pause the simulation and try again if they made a mistake, without the awkward social repercussions of an actual conversation. Our data indicate that rehearsing their interpersonal skills in this way helped them to increase these skills, which ultimately may help them to be more successful in college and future job environments."
Each of the five students also gained six hours of paid work experience each week through campus-based employment. Circulation Manager Jerry Lund served as one student's supervisor at Raymond H. Fogler Library. "We greatly appreciated the opportunity to have him work at the library," said Lund. "He learned stacks maintenance skills that form the foundation of student training in the Circulation Department. Despite only working six hours a week, he developed a working knowledge of the challenging Library of Congress call number classification system."
Paid work experience in high school is generally recognized as one of the best predictors for positive transition outcomes for youth and young adults with disabilities. "We saw tremendous growth in our son's confidence throughout the five weeks," another parent observed. "As he prepares for his senior year of high school, he's been given an opportunity to gain a lot of clarity in his future education goals."
Stone-Sterling shared a similar observation. "We were very excited to see the growth in the young people – in their paid work experiences, in their classroom experiences, and especially in their social interactions with each other. It was very rewarding to hear from the youth and their parents about what the program meant for them and we appreciated getting their suggestions for future years. We are eager to continue to develop the program and to offer it as an option for more youth in the coming summers."
During the final week of the program, Maine Department of Labor Commissioner Laura Fortman made a short visit to UMaine to meet informally with the Step Up students, faculty and staff. Howorth attended the meeting and was impressed by the growth she observed in the students' communication skills. "When I first met them all at orientation," she said, "they were all very quiet, shy and not very talkative. However, at the end of the five weeks, all of the participants were able to hold very relaxed and insightful conversations with the Commissioner and each other about their experiences and how they felt more confident about their futures."
One parent who is also a counselor of transition age youth with disabilities said, "I cannot overstate the importance of programs like this. I feel so much more at ease with my child entering college after their experience with the Step Up program. I hope that it can be expanded in the future to offer this great opportunity to others."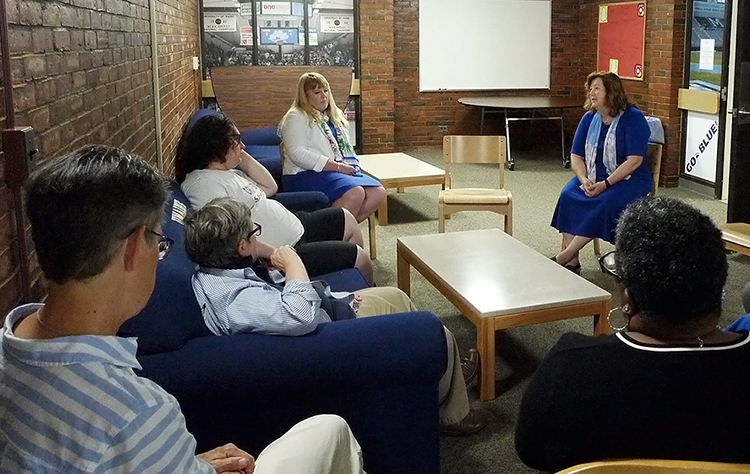 Photo credit: cover photo of Step Up student seated on brown couch courtesy of Brian Murphy.