Tips from Young Adults and Researchers: How to Talk About Mental Health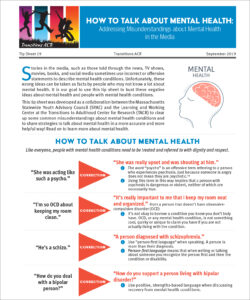 The Transitions to Adulthood Center for Research (Transitions ACR) and the Massachusetts Statewide Youth Advisory Council recently collaborated on a tip sheet, How to Talk About Mental Health: Addressing Misunderstandings about Mental Health in the Media (PDF). The tip sheet addresses common misunderstandings and challenges the incorrect or hurtful language used to describe individuals living with mental health conditions. As part of the University of Massachusetts Medical School, Transitions ACR is a group of researchers, clinicians, and young adults who want to improve the lives of youth and young adults living with mental health conditions.
The content of this tipsheet was developed with funding from the National Institute on Disability, Independent Living, and Rehabilitation Research (NIDILRR); and from the Center for Mental Health Services of the Substance Abuse and Mental Health Services Administration (SAMHSA).