John Wilcox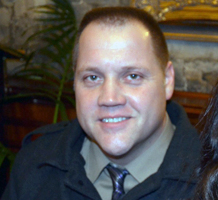 Discipline: Occupational Therapy
Faculty Mentor: Alan Kurtz, M.Ed.
About:
My name is John Wilcox. I graduated from Utica College with B.S. in OT in 1999, San Jose State University in 2006 with a M.S. in OT, and RMUoHP in 2010 with a Doctorate in OT. I have primarily worked with pediatrics (5-18) in a school setting for the past 11 years. I also work at 2 area hospitals in the acute care setting and out patient rehab setting during the summer months. I work per diem in the home health setting throughout the year and teach at Husson University as an adjunct professor for the Occupational Therapy Department.
My interest in the areas of disabilities encompass multiple areas and facets, from direct treatment, research, and community advocacy/education for increased inclusion and participation of peoples with disabilities in social and work settings. In the area of research, assistive technology use to increase functioning of children with ASD has been my area of involvement and research completion.