Hagner and Kurtz Invited to Contribute Book Chapter on Family-Centered Transition Planning Research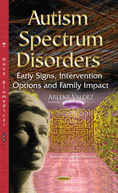 David Hagner, Ph.D., and Alan Kurtz, Ph.D. Candidate, were recently invited by Nova Science Publishers to contribute a chapter to a forthcoming book, Autism Spectrum Disorders: Early Signs, Intervention Options and Family Impact to be published in June 2015. Hagner, from the University of New Hampshire Institute on Disability; and Kurtz, from the University of Maine Center for Community Inclusion and Disability Studies; have collaborated on two federally-funded family-centered transition planning projects (2009-2011 HRSA  and 2011-2014 NIDRR) since 2009.
In their chapter, "Student and Family Involvement in Transition Planning: Promising Practices and Student Outcomes," Hagner and Kurtz present their research findings on the Family-Centered Transition Planning (FCTP) approach as a key component of high quality transition planning and they discuss the central role that changes in student and parent expectations play in the process, both as results of and drivers of the transition planning process. Efforts to replicate and sustain the FCTP model are also discussed.