Interdisciplinary Disability Studies Minor Honorees Recognized in Celebration of Achievement
Thirty-four University of Maine undergraduates were recently honored for completing the 24-credit Minor in Interdisciplinary Disability Studies during a celebration at Wells Conference Center. (See gallery of celebration photos on our Facebook page.) Students completing the Minor represented six academic disciplines: Child Development & Family Relations; Communication Sciences & Disorders; Elementary Education; Kinesiology & Physical Education; Psychology; and Social Work.
Honorees Carla White, Jalisa Patten and Katherine Caramihalis delivered the student addresses. Stoles were presented by Stephen F. Gilson, Coordinator and Professor of Interdisciplinary Disability Studies and Social Work; and Elizabeth DePoy, Professor of Interdisciplinary Disability Studies and Social Work, and Cooperating Professor in Mechanical Engineering.
​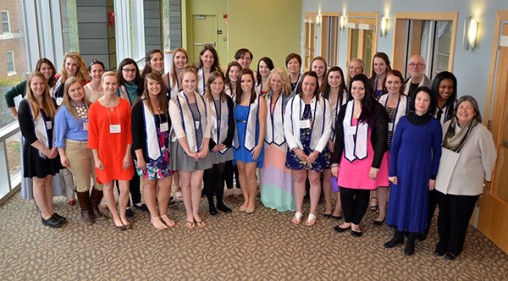 Caption for group photo:
Disability Studies students and faculty pictured in the photo above are (front row left to right) Allison James, Amber Oakes, Erin Helfen, Jalisa Patten, Marion Sheehan, Samantha Kringstad, Molly Sukeforth, Taylor Hurley, Rebecca Rancourt, Alexis Daneau, Prof. Liz DePoy, and CCIDS Director Dr. Lu Zeph. (Back row left to right) Jessica Dyer, Kelly Fleming, Jessica Hall, Katherine Caramihalis, Kristen Martin, Karissa Keating, Carla White, Maggie Wallace, Denise Smart, Eleanor Burnham, Ruby D'salva-Bouton, Kelsey Wilcox, Margaret Pierce, Amanda Thurlow, Shannon O'Neil, Katlin Norton, Prof. Stephen Gilson and Allyson Bragg. (Not pictured) Stephanie Barker, Jillian Casey, Heather Gilbert, Nicole LaRue, Samantha Pelletier, Paige Pendarvis and Mackenzie Tibbetts.