ME and NH Panel Discusses Leadership Issues and Opportunities with LEND Trainees
Four seasoned leaders who work on behalf of children and youth with disabilities or special health care needs and their families were participants in a recent two-state Leadership Panel hosted by the New Hampshire Leadership Education in Neurodevelopmental and Related Disabilities (LEND) Program partnership at UMaine and UNH. Maine panelists Cindy Brown and Cullen Ryan, and New Hampshire panelists Elizabeth Collins and Martha-Jean Madison, discussed leadership issues and opportunities with 23 LEND trainees via videoconference between the two states.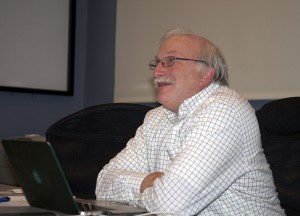 The panel discussion was moderated by faculty member, Alan Kurtz, Ph.D., CCIDS Coordinator of Education and Autism Initiatives; with assistance from Susan Russell, M.S, UMaine LEND Training Coordinator; Elizabeth Humphreys, Ph.D., LEND Interdisciplinary Training Director; and Rae Sonnenmeier, Ph.D., CCC-SLP, Speech-Language Pathology faculty.
LEND programs provide graduate level interdisciplinary training to improve the health of infants, children, and adolescents with disabilities. They accomplish this by preparing trainees from diverse professional disciplines to assume leadership roles in their respective fields and by insuring high levels of interdisciplinary clinical competence.
Complete bios for the four panelists:
Maine Panelists:
Cindy L. Husson Brown, M.Ed. is the Early Childhood Special Education Director at Maine Department of Education Child Development Services. She coordinates Maine's Part C and Part B Section 619 services. She has a Master's Degree in Special Education Curriculum and Instruction from Lesley University and has been in the education field since 1978. Cindy serves as Co-Chair of the National 619 Coordinators Consortium, is a member of the National Infant Toddler Coordinators Association, Maine's State Agency Interdepartmental Learning Team, the Developmental Systems Integration Project and the Children's Growth Council Professional Development Alignment Team.
Cullen Ryan, M.A. Since 2004, Cullen Ryan has served as Executive Director of Community Housing of Maine, the largest housing provider for homeless and special needs populations in the state. He has an MA in Counseling and Psychological Services from St. Mary's University (MN), and a background as a direct service provider for homeless and special needs populations for 28 years.  Formerly a licensed clinician, Cullen has provided case management, family therapy, and individual/group psychotherapy to homeless adults, families, and adolescents in a variety of clinical and non-clinical settings in three states. Cullen is a parent of a child with an intellectual/developmental disability. He has continuously been a leader in local, state, and federal advocacy and policy development. Cullen currently chairs the Board of the Northern New England Housing Investment Fund, the Maine Developmental Services Oversight and Advisory Board, the Maine Developmental Services Stakeholders Continuum of Care Implementation Committee, the Maine Coalition for Housing and Quality Services, and was the recent past chair of the Maine Affordable Housing Coalition.
New Hampshire Panelists:
Elizabeth Collins, RN-BC, MS, BSN is New Hampshire's Title V Director for Children and Youth with Special Health Care Needs (CYSHCN) at Special Medical Services (SMS). She has a Master's degree in Nursing Leadership from the University of New Hampshire and a background in Health Planning and Advocacy for Special Populations. She oversees SMS's Child Development Clinic Network, Community Based Health Care Coordination, Nutrition and Feeding & Swallowing Program, Neuromotor Clinic Network and the Partners in Health Program. Under her guidance, NH's Title V CYSHCN program has branched out into new resource development and building stronger partnerships.  Liz's work at Special Medical Services has had a strong focus on quality improvement, data integrity, family centeredness and sustainability. She has led efforts to improve overall access to care for CYSHCN and has leveraged federal grant money efforts related to epilepsy, ease of use for Latino families, and autism and other developmental disabilities.
Martha-Jean Madison has been involved in disability issues since the early 1970's. After being a stay home mom for 15 years, she worked as the Supportive Parent Coordinator for Parent To Parent of NH and the Parent Consultant to Special Medical Services before becoming Co-Director of NH Family Voices. Martha-Jean has served on the Family Voices national board in the capacity of member, Vice-President and President. She is a step, birth, and adoptive parent of 12 children, five of whom have special health care needs and disabilities and two with mental health challenges.