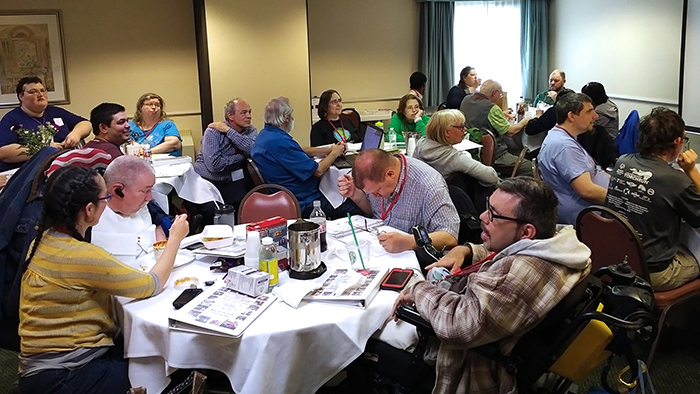 Self-Advocates and Allies Gather to Plan for Future Peer-to-Peer Support
Self-advocates and developmental disabilities network allies from the federally funded North East Advocates Together (NEAT) Peer-to-Peer Connections Technical Assistance Project gathered on May 16-18, 2016 for their final three-day technical assistance retreat in Concord, NH. Katherine Cargill-Willis, Program Officer from the U.S. Department of Health and Human Services ​Administration for Community Living, also attended the event.
A h​ighlight of the three-day ​retreat included a training on how to make videos for social change by award winning documentary filmmaker, Dan Habib. Support from the ​New Hampshire Charitable Foundation helped to make Dan's training possible.
The final day of the retreat included brainstorming conversations about how to sustain the six-state peer-to-peer technical assistance connections after the project's federal funding ends in September. North East Advocates Together has a successful history of collaboration and support; the group was formed in 1998, pre-dating the federally-funded project that shares its name.  ​
NEAT Project partners include the following: Speaking Up For Us of Maine; Massachusetts Advocates Standing Strong; People First of New Hampshire; Self-Advocacy Association of NYS – SANYS Statewide Page; Advocates in Action Rhode Island; Green Mountain Self-Advocates; Massachusetts Developmental Disabilities Council; NH Council on Developmental Disabilities; Rose F Kennedy University Center for Excellence in Developmental Disabilities – NY; Paul V. Sherlock Center on Disabilities / RI College UCEDD; Center on Disability & Community Inclusion UCEDD-VT; and the University of Maine Center for Community Inclusion and Disability Studies UCEDD-ME.
The NEAT Peer-to-Peer Connections Technical Assistance Project is funded by the U.S. Department of Health and Human Services, Administration on Intellectual and Developmental Disabilities, Grant No. 90DN0300-01-00 and administered by Vermont Protection & Advocacy (Disability Rights Vermont). Hilary Clark serves as the NEAT Outreach Coordinator and Skye Peebles serves as the NEAT Administrative Coordinator.
A photo gallery of the May retreat is available on the CCIDS Facebook page.