Resources to Enhance Community Participation of Individuals with Mental Health Conditions
The Temple University Collaborative on Community Inclusion has published two new resources to enhance the community participation of individuals with psychiatric disabilities through the use of social media and web-based communication.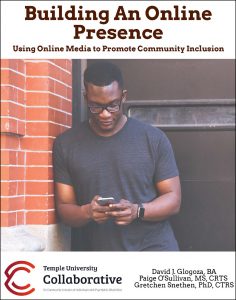 Building An Online Presence: Using Online Media to Promote Community Inclusion (PDF) is a toolkit that examines how agency programs (or) individuals with mental illnesses can use websites, newsletters, and various social media platforms to connect to mainstream community resources; highlight instances of community participation; and stay active in producing community inclusion-related content on their online media. "As social media becomes a more prevalent and expected aspect of everyday communication, it is important for both traditional mental health programs and peer-operated services to take advantage of online and social media opportunities. By taking advantage of these opportunities, agencies can further their reach, awareness, and engagement. This can in turn strengthen community inclusion efforts and the participation of those living with mental illnesses."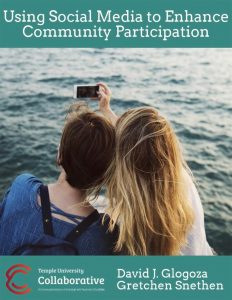 Using Social Media to Enhance Community Participation (PDF) is a  manual that examines ways in which individuals with mental illnesses can use social media networks to enhance community participation. Social media features and functions are examined as well as specific networks such as Facebook, Twitter, Instagram, LinkedIn, MeetUp, and Yelp. Also reviewed are considerations and risks when using social media. "Social media has changed the way people express themselves, get information, and communicate with each other. It is an innovational tool that has added unique opportunities to interacting with others, however social media can be used for a multitude of things other than simply talking with friends. Finding jobs, searching for community events, joining groups of peers, reviewing businesses, expressing points of view, and sharing news articles are just some of the great community-based features social media offers."

The Temple University Collaborative on Community Inclusion receives funding as a Rehabilitation Research and Training Center through the National Institute on Disability, Independent Living, and Rehabilitation Research (NIDILRR). Through collaboration, the center aims to conduct state-of-the-art research and knowledge translation activities to improve opportunities for community inclusion of individuals with psychiatric disabilities.