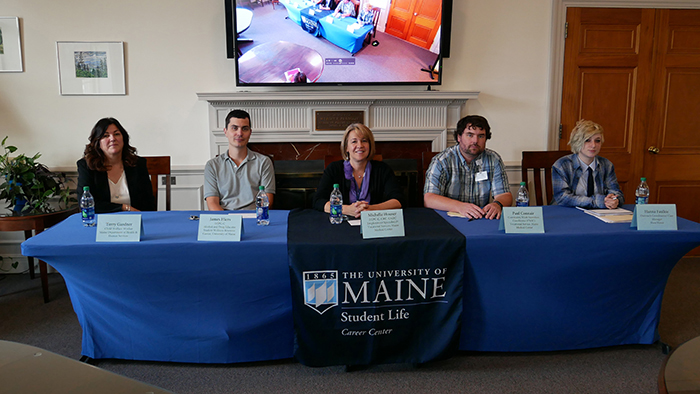 Professional Panel Discusses Careers in Human Services
"I want to help people." This is the response BJ Roach frequently receives when she asks first-year students what kind of work they'd like to do after graduation. Roach, a career counselor at the University of Maine Career Center, gently encourages them to go deeper and to ask themselves, "What do I want to help people do? Why?"
For many students, this deep desire to be of service to others doesn't materialize into a career in human services. This disconnect has led to an acute shortage of qualified candidates to fill open positions in the helping professions, particularly those that serve vulnerable populations such as children at risk, the homeless, people with disabilities, ethnically and linguistically diverse communities, and individuals living with addiction or mental health conditions.
In late 2017, this worker shortage led to strategic conversations and a recent collaboration between the University of Maine Center for Community Inclusion and Disability Studies and the Maine Commission on Disability and Employment. The Commission, established in 1997 by the state legislature, promotes collaboration with the public and private sectors to increase awareness and influence policy related to employment for people with disabilities. Some of the Commission's members are also providers of employment services for people with disabilities who struggle to fill open positions.
The Center and the Commission, in partnership with the University of Maine Career Center, hosted a panel discussion this fall at UMaine to help promote careers in human services to students. The panel included five human services' professionals representing a variety of occupations in the field:
(Above photo left to right: Terry Gardner, James Hiers, Michelle Houser, Paul Connair and Hanna Faulkie. Photo courtesy of CCIDS.)
The panelists not only provided details about their respective jobs, but shared the unique pathways that led them to their current positions. Paul Connair's vocational journey had its origins in youth ministry. For Hanna Faulkie, a "bombed interview" for her first placement as a UMaine social work intern led to her current work with homeless and unsheltered young people. Terry Gardner "stumbled" into her profession—hired as a clerk by the Office of Child and Family Services right after she completed high school. James Hiers followed his bachelor's degree in criminal justice with a graduate degree in counseling. For Michelle Houser, the work is personal; inspired by her sibling's rehabilitation from a spinal cord injury.
Two of the five panelists, Connair and Houser, work in the Department of Vocational Services at Maine Medical Center in Portland. The department is an accredited community employment services provider for individuals with disabilities. It also provides technical assistance and training to community rehabilitation agencies, employers and schools. Houser is sometimes asked why a large health organization offers vocational services. "At Maine Medical Center," Houser said, "we see work as part of a person's overall health."
The panelists offered strategies to help college students learn more about careers in the helping professions while they're still in school. Most human service professionals are required to pass background checks and are bound by ethical standards to protect their clients' rights to privacy and confidentiality. In most cases, this limits the possibility of job shadowing (an unpaid career exploration method where an individual personally observes or "shadows" another person whose work is of interest to him or her).
But other options to learn more, said the panelists, do exist. Among their suggestions to undergraduates: join a student club or association that aligns with the student's area of interest (i.e., psychology, social work, child development/family relations, community mental health, etc.); conduct brief focused informational interviews with working professionals; or seek paid or unpaid internships with local providers or agencies. College advisors and faculty mentors are also good sources for career guidance and support.
Faulkie also encouraged students to find volunteer work in parallel programs that serve populations or address issues of interest outside of an academic environment. For example: volunteer at a local food pantry to learn firsthand how food insecurity is impacting individuals and families in the community. Or get involved with a grassroots movement or organization to make meaningful connections that may one day lead to fulfilling career.
Paul Connair offered this simple advice: "Seek to fill a need and follow your passion."