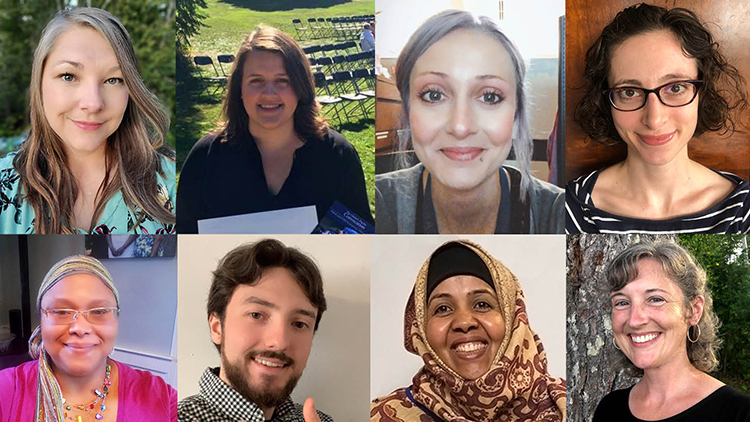 CCIDS Welcomes 2020–2021 UMaine NH-ME LEND Trainees
The University of Maine Center for Community Inclusion and Disability Studies (CCIDS) warmly welcomes the 2020-2021 cohort of UMaine trainees in the New Hampshire-Maine Leadership Education in Neurodevelopmental and Related Disabilities (NH-ME LEND) Program. UMaine trainees pictured from left to right, beginning in the top row: Monique Stairs; Gabby Jackson; Jaci Peterson; Rosie Hoffman; Ivory Mills, Shane DaSilva-Novotny; Hibo Omer; and Tracey Miller.
The NH-ME LEND Program is a partnership among the University of New Hampshire Institute on Disability, CCIDS, and the Dartmouth Hitchcock Medical Center (NH). It seeks to improve the health of children and youth with neurodevelopmental and related disabilities and their families by preparing future leaders in the field of maternal and child health. This rigorous 9-month curriculum follows the academic calendar and includes coursework and hands-on experiences with faculty, families, community partners, and legislators. For more information about NH-ME LEND, please download the program brochure from the website.
Photograph(s) were taken prior to the coronavirus pandemic. The University of Maine and University of Maine at Machias follow federal and state Centers for Disease Control and Prevention health and safety guidance, which includes social distancing and use of face coverings for the start of the 2020–21 academic year.