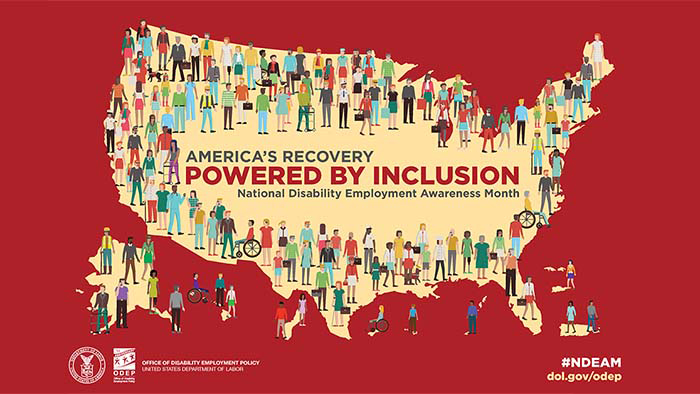 October 20, 2021: Celebrate NDEAM with US Secretary of Labor Marty Walsh
Join U.S. Secretary of Labor Marty Walsh and Assistant Secretary of Labor for Disability Employment Policy Taryn Williams for a virtual celebration of National Disability Employment Awareness Month (NDEAM) and the 20th Anniversary of the Office of Disability Employment Policy (ODEP).
Date: Wednesday, October 20, 2021
Time: 2:00 p.m. – 3:00 p.m. EDT
There is no cost to attend, but pre-registration is required to receive the link.
Explore the Department of Labor's work to ensure that America's economic recovery is powered by inclusion. This virtual event will feature insightful dialogues and a video showcase highlighting strategies in action for an equitable, disability-inclusive recovery.
Featured guests:
Jenny Yang, Director, Office of Federal Contract Compliance
Jennifer Sheehy, Deputy Assistant Secretary for Disability Employment Policy
The graphic, America's Recovery – Powered by Inclusion, is courtesy of the U.S. Department of Labor, Office of Disability Employment Policy.