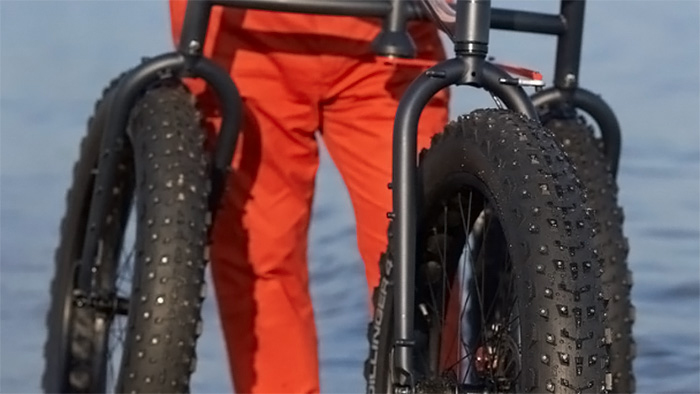 Professors and Afari Inventors Gilson and DePoy Share Their Vision of Mobility
Source: University of Maine Alumni Association, "Stephen Gilson and Elizabeth DePoy: An expansive vision of mobility."
Professors and inventors Stephen Gilson and Elizabeth DePoy were recently featured in a column by the University of Maine Alumni Association as part of their "Innovators of UMaine" series that is supported by a grant from the Maine Technology Institute.
In the column, "the husband-and-wife team of Stephen Gilson and Elizabeth DePoy, both professors of interdisciplinary disability studies and social work at UMaine, provide updates on the adaptive mobility device they invented in 2013. Called the Afari, the sleek, three-wheeled device is designed to facilitate upright mobility and help users maintain balance while effortlessly navigating all kinds of terrain. Originally created by Gilson, DePoy, and UMaine professor of mechanical engineering Vincent Caccese so that DePoy could compete in a 5k race, the Afari technology has now been exclusively licensed for production and sale by Mobella, a company founded to commercialize stylish, functional mobility solutions for people with active lifestyles."
Two versions of the Afari are available from Mobella: Commuter and Off-Road.
All photos courtesy of Mobella.