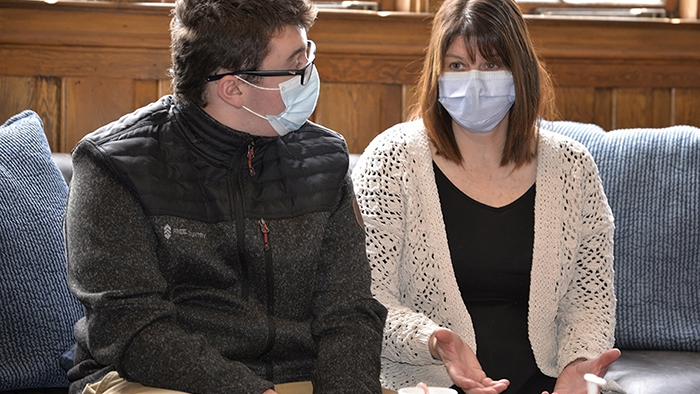 A College Exploration Conversation with Jake and Christy
It's a cold morning in late November and Jake, a high school junior, sits on the edge of a leather couch in the University of Maine's historic Heritage House. He's accompanied by his mother, Christy; and Hailey Howard, his vocational rehabilitation counselor from the Maine Department of Labor's Division of Vocational Rehabilitation (DVR).
They're here for a campus tour with other prospective students and their families. For Jake, it's a logical follow-up to completing the Summer 2021 Step Up Program: a multi-week learning experience for high school juniors or seniors with an autism spectrum diagnosis who are DVR clients and have shown an interest in postsecondary education.
Step Up began as a successful pilot program in the summer of 2019. It's a collaboration among the Maine Department of Labor's DVR, the University of Maine Center for Community Inclusion and Disability Studies, the College of Education and Human Development, and Student Accessibility Services.
Janet May, a Step Up instructor and mentor, spends time with Jake, Christy, and Hailey before the tour and asks if last summer's program has helped to prepare Jake for college. As a result of the ongoing COVID-19 pandemic, the 2020 and 2021 programs were conducted entirely online. While the online and on-campus programs' curriculum included learning social skills, practicing self-determination, attending a first-year three-credit college class, and career exploration; the online programs could not provide these high school students with the experiences of living together, attending class, and working on campus.
"No matter how hard I think you try," said May, "when you're not really with people, and you're not living in a dorm and having all that experience, it just ups the reality of it so much. You don't know what you don't know."
Jake presents as a very bright and self-assured young man: "Most of that stuff I already knew."
His mother Christy gently pushes back: "Well, there's a difference between knowing it and applying it. I think with the [Step Up] program you were put in a position where you had to apply it and I liked that."
Jake shares that he is alone among his peers on the spectrum in wanting to attend college. Most are looking forward to getting a job right after high school. "The good thing about college is that people in college actually have dreams," said Jake. "They actually want to go places. You have to understand, both of my parents are college graduates. Most of my family are graduates. So that concept to me [of wanting to go directly into the workforce] is alien."
He describes his experience as one of being trapped in a weird no man's land; between on the spectrum and normal [neurotypical]. "That can be very frustrating sometimes," he says, "because I pick up on a lot of things that normal people get easily; but at the same time, I just don't fit in well with my peers that happen to be on the spectrum."
Jake recently shifted his academic area of interest from pre-medicine to marine biology. "Are there particular life forms that you're interested in?" asks May.
"Cetaceans are interesting," Jake replied. "Invertebrates and coral reefs are cool. Microbiology is always interesting. I've always had a knack for invertebrates."
Christy smiles and says, "Yes, you have."
Jake says a big deciding factor on where he wants to attend school is how close to the ocean it is. "I don't care if the University of Topeka has the best marine biology program in the world….[it's] too far. No more than one hour is my rule."
Hailey, his vocational rehabilitation counselor agrees: "I think that's a good rule."
Jake turns to Janet and asks, "Now the student body here [at the University of Maine]; how would you describe it?"
"Diverse," she replied.
"Not just in skin color and stuff, but ideologically?"
Janet replied: "Oh, yes."
"Oh good. Ideological diversity is good," said Jake. "I want my views to be challenged."
Christy responds, "Oh, they will be." [Laughter.]
"Well, that's how science works," explained Jake. "You get your views challenged and they're either proven right or proven wrong and then you build on from there."