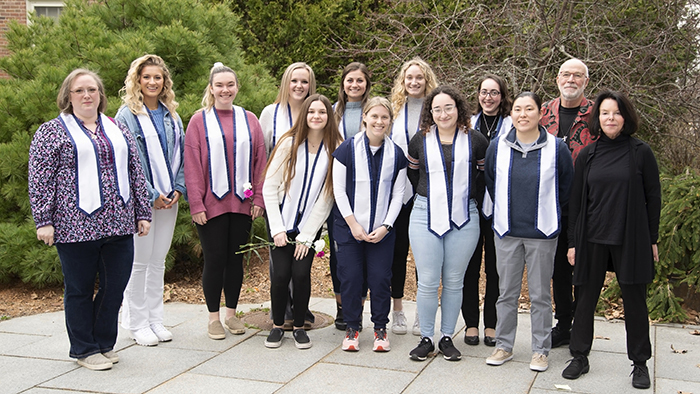 CCIDS Celebrates the Achievements of 22 Interdisciplinary Disability Studies' Honorees
Twenty-two University of Maine students were honored on April 26th during the 2022 Interdisciplinary Disability Studies Celebration of Achievement at Wells Conference Center. Dr. Alan Cobo-Lewis, Director of the University of Maine Center for Community Inclusion and Disability Studies and Associate Professor of Psychology, delivered the opening welcome.
Three students were recognized for completing the 9-credit Graduate Certificate in Interdisciplinary Disability Studies. Nineteen undergraduates (3 of whom were 2021 honorees) were recognized for completing the 24-credit Minor in Interdisciplinary Disability Studies.
"Over the last two years, we've been thinking about disability not as a group, but about all people," said Dr. Stephen Gilson, Coordinator and Professor of Interdisciplinary Disability Studies and Social Work. "We looked at disability as humanists, variation in difference, and we also studied the range of responses through different conceptualizations of what disability is and what disability is not."
Students completing the Minor represented seven academic disciplines: Biomedical Engineering; Child Development & Family Relations; Communication Sciences and Disorders; Kinesiology and Physical Education; Marine Science; Psychology and Social Work.
Five student teams from DIS 450 Disability: Population—Environment Diversity, conducted a forensic analysis of access issues in a variety of settings where access was not possible or denied. The students' settings included a restaurant; musical instrument access; language reference badges; a fitness center; and delivery of American Sign Language (ASL). Each team was asked to propose solutions for their setting and produce an accessible video presentation to share their work. These video presentations were screened on a loop before and after the Celebration.
"It's been a pleasure studying with you," said Dr. Elizabeth DePoy, Gilson's partner in life and in the classroom. "You have developed into wonderful scholars."
Group photo caption: (Back row curving from left to right): Rebekah Horowitz, Ruby Brown, Leona Toole, Audrey Young, Emily Edgerly, Jacqueline Bassi,  Jocelyn Cooper and Stephen Gilson. (Front row): Madison Lavin, Claire Scobie; Jasmine Silvera, Kacey Roehrich and Elizabeth DePoy. (2022 Minor honorees not pictured): Keeley Clark, Emily Emerson, Jaclyn Evangelista, Kaylee Knowles, Antonia Rosati, Madeline Testa, Emma Williams and Maddi Young. Also Danielle Doughty, Eric Homburger, and Dominic Kelly (Graduate Certificate Honorees).
Group photo courtesy of the University of Maine Center for Community Inclusion and Disability Studies.