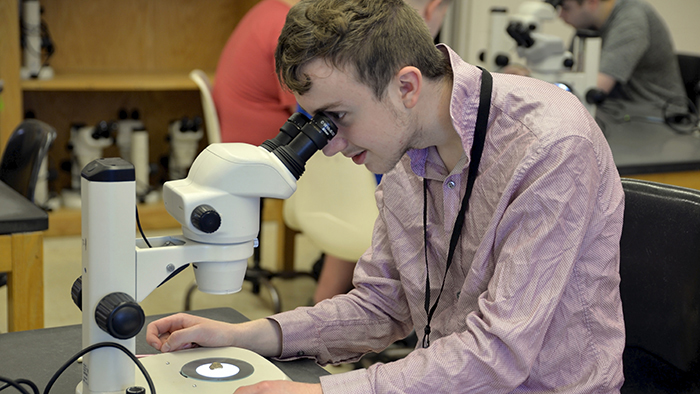 Step Up Students Explore STEM Education and Careers at UMaine
After two years of remote participation, the Step Up Program was able to safely return to the University of Maine for a five-week, on-campus living and learning experience for seven high school students or recent high school graduates with autism spectrum disorder. The return of residential living brought with it the usual challenges for new students including lost key cards, navigating life with a roommate and the wonders of doing laundry.
This year's summer program was designed for, and sought participation from, students who had an interest in Science, Technology, Engineering and Mathematics (STEM) education and careers.
During week one, the Step Up Program provided seminars to help the students become acquainted and to plan for their successful transition to postsecondary education. These seminars addressed topics such as obtaining and using accommodations, self-advocacy and self-determination, managing one's health care, study skills and time management.
Certified PEERS® facilitators from the Maine Department of Labor Division of Vocational Rehabilitation (DVR) – Tim Small and Spencer Trenoweth – offered the full-day PEERS® Social Skills Bootcamp on campus with a follow-up session via Zoom. Students were presented with targeted social skills through didactic instruction and role-play demonstrations. Throughout the Step Up program, the students received numerous opportunities to practice these skills in a variety of settings: from a sit-down dinner at Governor's Restaurant, to excursions to an indoor trampoline park, a laser tag center, the Bangor State Fair, and the University of Maine Hudson Museum.
In keeping with the STEM theme, students also participated in numerous events at the Versant Power Astronomy Center and Maynard Jordan Planetarium on campus – including viewing the early images transmitted from NASA's James Webb Space Telescope.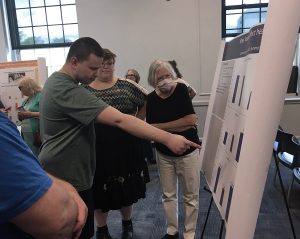 All of the students enrolled in a first-year level, three-credit class, INT 188 Integrated Science Research and Career Exploration, with instructor Torey Bowser. This 4-week environmental science research course included lectures and hands-on fieldwork activities. Students were taught specific skills such as graphing, data analyses and critical thinking.  These skills were on display at the End of Program Research and Project Symposium where students created posters and shared the results of their investigations. (Photo at right from the Symposium features a Step Up student; instructor Tory Bowser; and her advisor, Dr. Rebecca Van Beneden.)
With instruction and support from DVR, the students engaged in a project-based learning work experience. Using the Pathful Explore platform (formerly Virtual Job Shadow), the students worked together to complete STEM-based content lessons and were then asked for their feedback. They shared information about their high school exposure (or lack thereof) to STEM fields. "This experience increased their knowledge of STEM careers," said DVR Director Libby Stone-Sterling. "It also provided them with an opportunity to practice self-advocacy and work readiness skills. They shared feedback on the lessons that the DVR will use as we design and deliver future Pre-Employment Transition Services." Students were paid for their time and input.
The 2022 Step Up Program was a collaborative project of the Maine Department of Labor – Division of Vocational Rehabilitation (DVR); the University of Maine Center for Community Inclusion and Disability Studies; the College of Education and Human Development; and the Early College Program. Student accommodations were provided by University of Maine Student Accessibility Services.
Photos courtesy of the University of Maine Center for Community Inclusion and Disability Studies