MRTQ and CCIDS: A Partnership for Inclusion
As a partner in the Maine Roads to Quality Professional Development Network (MRTQ PDN)​,​ CCIDS is part of a coordinated early childhood professional development system that supports professionals to provide inclusive high quality early childhood programs by the following:
Ensuring that the current trainings include specific pedagogy for children with disabilities woven throughout the entire curricula.
Developing and teaching supplemental courses that support early childhood professionals' confidence and competence to care for and teach children with diverse learning styles and needs.
Creating and field-testing the ​Maine Inclusion Credential,​ a specialty credential tied to specific competencies, and designed to help professionals build skills, knowledge, resources, and attitudes to promote quality, inclusive practices in their programs.
Providing access to consultation specialists, including inclusion facilitators and early childhood mental health consultants.
Coordinating and staffing the Warm Line​ service for telephonic and email access to professionals for advice, problem-solving and help locating resources.
The following graphic illustrates ​Maine's ​response to​ the HHS/DOE ​Joint Policy Recommendations​ on  the Inclusion of Children with Disabilities in Early Childhood Programs: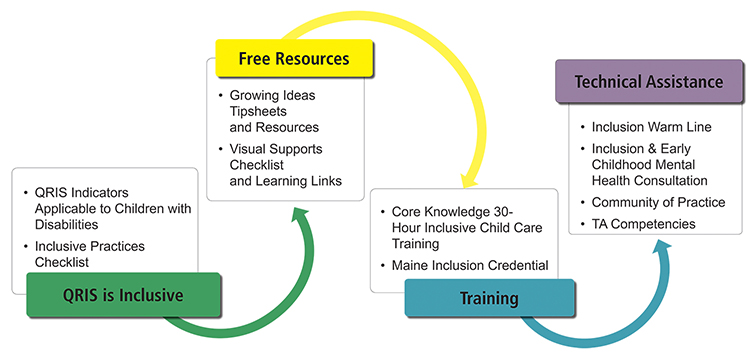 Linda Labas, M.Ed.,​ CCIDS' Early Childhood Coordinator, ​recently presented a poster, Partnerships Promoting a Culture of Inclusion in Maine's Early Childhood Workforce​,​ at the Association of University Centers on Disabilities Annual Conference in Washington, DC. Th​e​ poster highlight​ed​ the Maine UCEDD's role as a statewide resource and collaborative partner in advancing inclusive practice in Maine's early care and education system. It ​covered the delivery of a continuum of supports for inclusion; examine​d​ collaborations that create systemic impact; and review​ed​ the services needed to increase knowledge, skills and application of practices to improve the quality of early care and education settings in Maine. ​For more information, please contact Linda at labas@maine.edu