Confidentiality: Respecting the Privacy of All Families — Learning Links
These resources are intended as a starting point to learn more about respecting the privacy of all families, and confidentiality. Some resources may require a subscription or have restricted access due to a publisher paywall. You will need a PDF viewer for some of the resources – download Adobe Reader here.
Ethics and personal-professional principles: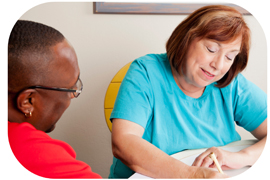 Professional organizations representing the early childhood and school age communities recognize in their codes of ethics the importance of honoring family confidentiality. Some examples:
Legal considerations and confidentiality:
Caring for Our Children – As a collaborator with the National Center on Early Childhood Health and Wellness (NCECHW), administered by the American Academy of Pediatrics (AAP), the NRC manages the updating of the Caring for Our Children, 3rd Edition (CFOC3) standards. CFOC3 is a collection of 686 national standards that represent the best evidence, expertise, and experience in the country on quality health and safety practices and policies that should be followed in today's early care and education settings. For information on confidentiality please see Standard 9.4.1.3: Written Policy on Confidentiality of Records.
Federal and State laws and regulations such as IDEA, Section 504 of the Rehabilitation Act, the Family Education and Rights to Privacy Act  (FERPA), Health Insurance Portability and Accountability Act (HIPAA) as well as Maine Child Care Licensing Regulations hold child care professionals legally accountable for maintaining family privacy.
Privacy Technical Assistance Center (PTAC) – The U.S. Department of Education established the Privacy Technical Assistance Center (PTAC) as a "one-stop" resource for education stakeholders to learn about data privacy, confidentiality, and security practices related to student-level longitudinal data systems and other uses of student data. PTAC provides timely information and updated guidance on privacy, confidentiality, and security practices through a variety of resources, including training materials and opportunities to receive direct assistance with privacy, security, and confidentiality of student data systems.
Exceptions to the rule about sharing information:
"Need to know" situations exist that can be shared whether or not parental permission has been obtained, such as in cases of:
Child abuse — If the child care professional has a reasonable concern that a child may be neglected or abused, as a mandated reporter, the professional is required by law to report this to the proper authorities. Child care licensing rules state how and where to report suspected child abuse and neglect. In Maine, contact Child Abuse Reporting.
Health conditions that are notifiable (refers to any communicable disease, occupational disease, or environmental disease, the occurrence or suspected occurrence of which is required to be reported to the Department of Health and Human Services pursuant to Maine's Disease Reporting Rules) — the director or designee must notify their public health department. In Maine, notify the Maine Center for Disease Control and Prevention (ME CDC). Staff and families should also be told about the illness but without disclosing the identity of the ill person. For a list of Maine's Notifiable Conditions see Rules for the Control of Notifiable Conditions, Chapter 2(J).
Confidentiality resources:
Disclaimer: This information is for educational purposes only. It is not and does not take the place of legal advice for any specific situation nor is it offered as such. 
Return to Program Planning and Administration
Updated: 08/10/2023