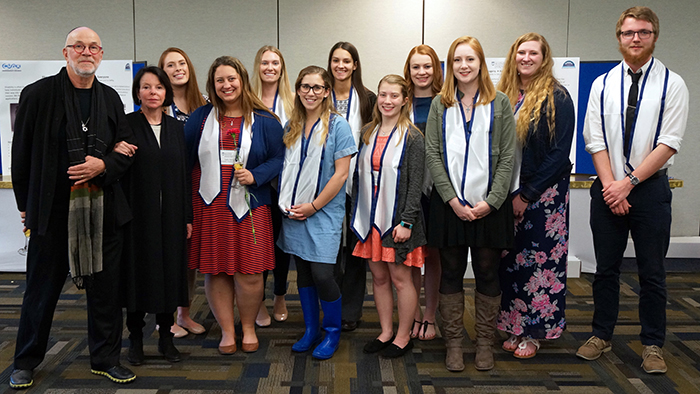 Interdisciplinary Disability Studies Celebration of Achievement
Seventeen University of Maine undergraduates were honored May 1, 2017 for completing the 24-credit Minor in Interdisciplinary Disability Studies during a celebration at Wells Conference Center.
Students completing the Minor represented six academic disciplines: Child Development & Family Relations; Communication Sciences and Disorders; Elementary Education; Kinesiology & Physical Education; Psychology; and Social Work.
Dr. Alan Cobo-Lewis, Director of the University of Maine Center for Community Inclusion and Disability Studies and Associate Professor of Psychology, delivered the opening welcome. Minor Honorees David Terwilliger II, Jaime Roy and Faith Perez delivered the student remarks.
Stoles were presented by Dr. Stephen F. Gilson, Coordinator and Professor of Interdisciplinary Disability Studies and Social Work; and Dr. Elizabeth DePoy, Professor of Interdisciplinary Disability Studies and Social Work.
Three research posters from the 2017 University of Maine Student Symposium and two aggregate class PPT presentations were on display during the celebration:
DIS 300 – Interaction of Human Diversity and Global Environments
DIS 450 – Disability: Population-Environment Diversity
Harli Maxwell and Minor honorees Megan Morey and Kendall Pike:
Group photo caption: (Left to right): Dr. Stephen Gilson, Dr. Liz DePoy, Kendall Pike, Faith Perez, Sarah Grass, Madeline Sanborn, Marissa Hanson, Jaime Roy, Allison Blunt, Megan Morey, Taylor Poli and David Terwilliger II. (Not pictured): honorees Cassandra Allard, Erica Ciulla, Sierra Colson, Nicole Donnellan, Alison Gannon, Emily Hamel and Brianna Walsh.