Assessment Basics: From Observation to Instruction – Virtual Toolkit
Professional Development Activity
---
Begin by reading the  Growing Ideas: Assessment Basics: From Observation to Instruction Tipsheet (PDF) and completing the Growing Ideas Into Action Handout (PDF) – A resource to use as you read and use the tipsheets.
---
Training Materials to use right away:
Try, Review, Reflect and Plan:
The Observing Young Children video discusses the importance of thinking about and planning observations, and how to use that information to help children learn. Weaving a Web with Children from the Center: A New Approach to Emergent Curriculum describes a child-centered webbing approach to observing, documenting and planning that considers the interests of the child as well as the developmental needs.
Click on the first website link above to view the video Observing Young Children.
Click on the second website link above to download the PDF Weaving a Web with Children from the Center: A New Approach to Emergent Curriculum.
Select and try out some of the strategies shared in these resources in your program.
Use the Assessment Basics: From Observation to Instruction Self-Reflection Guide and Documentation Sheet (PDF) to:

Review, reflect and plan your work with children.
Document your training hours.
Highly Recommended Resource: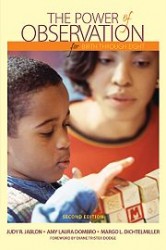 Jablon, J. R., Dombro, A. L., & Dichtelmiller, M. L. (2007). The Power of Observation for birth through eight, 2nd ed. Florence, KY: Delmar Thomson Learning.
From Publisher's website: This resource explores the vital connection between observing and effective teaching, offering guidelines and specific strategies to help teachers and caregivers transform observing into an essential component of their teaching practices. Much more than just a set of skills, observation is a mindset of openness and wonder that helps teachers and caregivers get to know more about each child in their care. In this new edition, the authors have added extensive, up-to-date examples to help teachers apply what they learn about children as well as a study guide for use in staff development and college courses. Co-published with Teaching Strategies.
Children's Book Selection:

Lyon, G. (2010). The Pirate of Kindergarten. Richard Jackson Books (Atheneum Hardcover).
Book Description: "Doubles are good for lots of things — double scoops of ice cream, double features at the movies. But double vision is NOT a good kind of double. In fact, it can make kindergarten kind of hard. Ginny sees double chairs at reading circle and double words in her books. She knows that only half of what she sees is real, but which half? The solution to her problem is wondrously simple: an eye patch! Ginny becomes the pirate of kindergarten. With the help of her pirate patch, Ginny can read, run, and even snip her scissors with double the speed!…"
Updated: 11/13/2017