Behavior Communicates – Virtual Toolkit
Professional Development Activity
---
Begin by reading the  Growing Ideas: Behavior Communicates Tipsheet (PDF) and completing the Growing Ideas Into Action Handout (PDF) – A resource to use as you read and use the tipsheets.
---
Training Materials to use right away:
Try, Review, Reflect and Plan:
"Asking a Friend to Play" offers four simple ways to help children learn how to initiate play with other kids.
Click on the first website link above to view the two minute video.
Click on the second website link above to download the PDF documents:

­ Ask a Friend to Play – Directions
­ Ask a Friend to Play – Visual

Try out the strategies in your program.
Use the Behavior Communicates Self-Reflection Guide and Documentation Sheet (PDF) to:

Review, reflect and plan your work with children.
Document your training hours.
The Cultivate Learning, University of Washington – Managing the Classroom website offers the Designing Environment – Well Designed Environment Reflection Tools which support designing goals that create a positive environment that promotes security, competence, and learning. The Individualizing: Creating a "Yes" Environment (PDF) reflection tool offers practitioners and programs the opportunity to assess where children may need more individualized support to be successful. Download the tool and:
Complete Part 1 of the tool, Where Do Children Need Environmental Support?
Complete Part 2 of the tool, Re-evaluating a "No" Environment.
Consider how activities and environments can be modified so they are a Yes.
To begin with, identify one play space and behaviors that you would like to modify.
Utilize page 3 of the tool, Potential Modification Strategies to create a plan for implementation.
Highly Recommended Resource: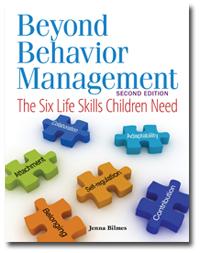 Bilmes, J. (2004-2012). Beyond Behavior Management Second Edition: The Six Life Skills Children Need to Thrive in Today's World. St. Paul, MN: Redleaf Press. Available at http://www.redleafpress.org/Beyond-Behavior-Management-Second-Editi-P530.aspx  ISBN: 978-1-60554-073-3

Publisher's annotation:
Are you struggling to manage children's behavior in your classroom?
All children—not just those with challenging behaviors—require guidance as they develop the social and emotional skills they will use the rest of their lives. This resource provides everything you need to help children build and use six essential life skills: attachment, belonging, self-regulation, collaboration, contribution, and adaptability. Developed and tested in the classroom, this strength-based approach includes strategies, examples of supportive interactions, and special activities to help you manage challenging behaviors and strengthen social and emotional development in all children. Reflecting significant changes in early childhood education, this second edition of Beyond Behavior Management aligns each life skill with early learning standards and addresses cultural awareness and its impact on child development. With these essential life skills, children will exhibit more prosocial behaviors, work better as a classroom community, and become excited and active learners.
This edition includes two new chapters and content reflecting early learning standards, new research, cultural diversity, and strategies to strengthen the home-school connection. Discussion and reflection questions, exercises, journal assignments, child profile templates, a planning worksheet, and sample scripts are also included.
Age focus: 3-6. Softbound, 336 pgs.
Children's Book Selection: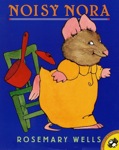 Wells, R. (2000). Noisy Nora. Puffin Picture Book.
Book Description:
"It's tough being the middle mouse.No one's paying any attention to Nora, so she decides to do something her family can't ignore: make noise. Nora slams windows, bangs doors, and upsets furniture, to no avail. It's not until she crashes out the door – and the house goes strangely silent – that her family realizes: a noisy Nora is much better than no Nora at all."
---
Interested in additional information on this topic? Visit our Behavior Communicates Selected Resources page.
Have a professional development plan? As you read the Growing Ideas Tipsheets, and use the Virtual Toolkit training materials be sure to place your handouts/documentation of this work in your personal professional development portfolio.
Updated: 01/17/2023