Thoughtful Teaching: Developmentally Appropriate Practice – Virtual Toolkit
Professional Development Activity
---
Begin by reading the GROWING IDEAS Thoughtful Teaching: Developmentally Appropriate Practice (PDF) tipsheet, and completing the Growing Ideas Into Action Handout (PDF) – a resource to use as you read and use the tipsheet.
---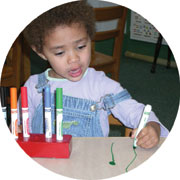 Training Materials to use right away:
Try, Review, Reflect and Plan:
Developmentally Appropriate Practice and Play (PDF)  from NAEYC shares key points on DAP and play.
Click on the website link above to download the PDF, Developmentally Appropriate Practice and Play.
Select and try out some of the strategies shared in this resource in your program.
Use the Thoughtful Teaching: Developmentally Appropriate Practice Self-Reflection Guide and Documentation Sheet (PDF) to:

Review, reflect and plan your work with children.
Document your training hours.
Highly Recommended Resource: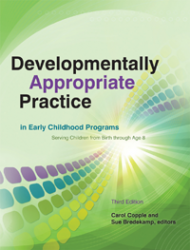 Copple, C. & Bredekamp, S. eds. (2009). Developmentally appropriate practice in early childhood programs. 3rd ed. Washington, DC: National Association for the Education of Young Children.
NAEYC On-line bookstore annotation:
Since the first edition in 1987, NAEYC's book Developmentally Appropriate Practice in Early Childhood Programs has been an essential resource for the early child care field. Now fully revised and expanded, the bestselling 2009 version comes with a supplementary CD containing readings on key topics, plus video examples showing developmentally appropriate practice in action. Based on what the research says about development, learning, and effective practices, as well as what experience tells us about teaching intentionally, DAP articulates the principles that should guide our decision making. Chapters describe children from birth through age 8 in detail, with extensive examples of appropriate practice for infant/toddler, preschool, kindergarten, and primary levels.
Children's Book Selection:
Senesi, E. (2000). Hurray for Pre-K! Harper Collins.
From Publisher's annotation:
"Hurray For Pre-K!" (Harper Collins, 2000) shows children aged two to six what goes on in a pre-K classroom. The book is organized around action words – one per spread – that begin with "come" (as children come in the door) to "go", as they leave at the end of the day. Everything that happens in between (play, rest, listen, eat, sing, paint, read, etc.) is told in simple sentences and shown in the very real photographs of a class with personality and their warm, sensitive teacher. The brief sentences make it appropriate to read to the very young. Additionally, the way the action words on each page are highlighted and repeated make it a perfect book to encourage early word recognition for young pre-readers and readers."
Return to Foundations of Inclusive Early Care and Education
Updated: 02/18/2020