Daily Transitions—Time for a Change – Virtual Toolkit
Professional Development Activity
---
Begin by reading the Growing Ideas: Daily Transitions: Time for a Change Tipsheet (PDF) and completing the Growing Ideas Into Action Handout (PDF) – A resource to use as you read and use the tipsheets.
---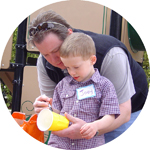 Training Materials to use right away:
Try, Review, Reflect and Plan:
Take a Look! Visual Supports for Learning introduces concepts related to using visual supports with children, a useful strategy that can help during transitions.
Click on the first website link to download the PDF document: Take a Look! Visual Supports for Learning.
Click on the second website link to download the PDF document: Visual Supports Checklist.
Select and try out some of the visual supports strategies in your program.
Use the Daily Transitions – Time for a Change Self-Reflection Guide and Documentation Sheet (PDF) to:

Review, reflect and plan your work with children.
Document your training hours.
Highly Recommended Resource: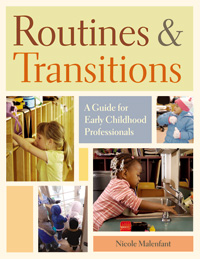 Malenfant, N. (2006). Routines and Transitions: A Guide for Early Childhood Professionals. St. Paul, MN: Redleaf Press.
Publisher's annotation: In early childhood settings, children spend over 50 percent of their time on handwashing, dressing, napping, and other routines and transitions.
Routines and Transitions is a complete guide to help you turn these routine daily activities into learning experiences. By using transitions wisely, you not only help children develop skills but also run a more efficient, calm program environment. In addition to discussions on developmental issues, environments, educational values, and hygiene, this book includes example of games and rhymes that help children accomplish daily transitions with ease.
Children's Book Selection: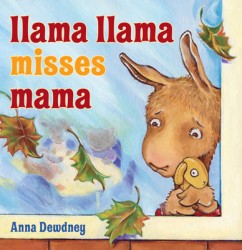 Dwedney, A. (2009). Llama Llama Misses Mama. New York, NY: Penguin Group. Available online at  https://www.amazon.com/Llama-Misses-Mama-Anna-Dewdney/dp/0670061980
From Publisher's annotation: Strange new teacher. Strange new toys. Lots of kids and lots of noise! What would Llama like to do? Llama Llama feels so new . . .
It's Llama Llama's first day of preschool! And Llama Llama's mama makes sure he's ready. They meet the teachers. See the other children. Look at all the books and games. But then it's time for Mama to leave. And suddenly Llama Llama isn't so excited anymore. Will Mama Llama come back?
Of course she will. But before she does, the other children show Llama Llama how much fun school can be!
The publisher has also made a video of the author reading "Llama Llama Misses Mama" available at http://www.youtube.com/watch?v=9xB6i1ReuT8.
---
Interested in additional information on this topic? Visit our Daily Transitions: Time for a Change  Selected Resources page.
Have a professional development plan? As you read the Growing Ideas Tipsheets, and use the Virtual Toolkit training materials be sure to place your handouts/documentation of this work in your personal professional development portfolio.
Updated : 02/28/2023