Featured Resources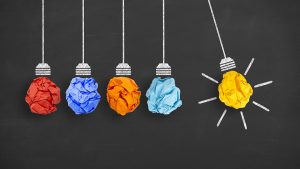 This page contains links to featured resources on a variety of topics for people with intellectual and developmental disabilities, their families, and the professionals and communities that support them. Some of the resources require a PDF viewer. You can download Acrobat Reader here.
---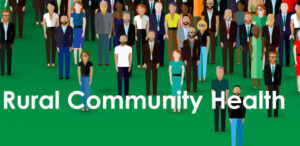 Evidence-Based Toolkits for Rural Community Health – Rural Health Information Hub (RHIhub): Step-by-step guides to help build effective community health. Resources and examples are drawn from evidence-based and promising programs.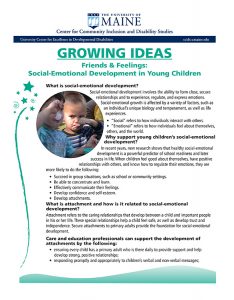 Growing Ideas Tipsheets and Resources for Guiding Early Childhood Practices – Free tipsheets and resources on a variety of topics related to quality inclusive care and education for young children. Each tipsheet is designed to be a starting point, providing basic topical information and pointing the reader to some of the best sources of extended information on the topic. The Growing Ideas virtual toolkit offers a professional development activity and featured resources for individual or group training or to share with parents and others.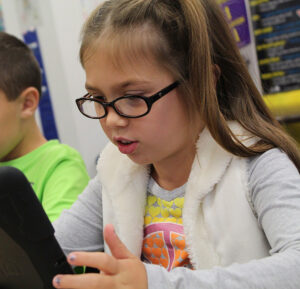 A Guide for Maine Families on Assistive Technology and Accessible Educational Materials (June 2020) [PDF]. A guide with the latest information on Assistive Technology (AT) and Accessible Educational Materials (AEM) for Maine families with children and youth with disabilities who are eligible for services and/or programs under the federal Individuals with Disabilities Education Act (IDEA). Published by Maine CITE.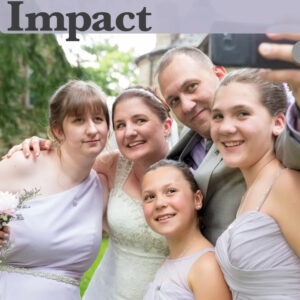 Impact: Feature Issue on Siblings of People with Intellectual, Developmental, and Other Disabilities (Spring 2020). This Impact issue focuses on the brothers and sisters of children, teens, and adults with intellectual and developmental disabilities – what is known about them, their roles and needs across the lifespan, their feelings about themselves and their siblings, and how to support them. Published by the University of Minnesota, Institute on Community Integration.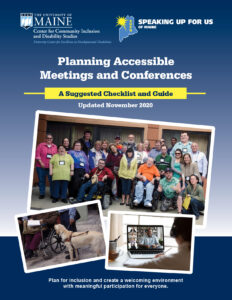 Planning Accessible Meetings and Conferences: A Suggested Checklist and Guide (PDF) is a free resource developed by the Center for Community Inclusion and Disability Studies in partnership with Speaking Up for Us, an organization run by and for adults who live with developmental disabilities. The checklist is designed to help any person, group, or organization plan a meeting or conference that is inclusive and welcoming. Its purpose is to provide practical suggestions that promote meaningful participation for everyone.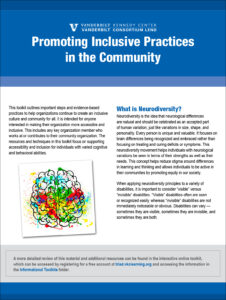 Promoting Inclusive Practices in the Community (June 2020) [PDF]. This toolkit outlines important steps and evidence-based practices to help organizations continue to create an inclusive culture and community for all. The resources and techniques in this toolkit focus on supporting accessibility and inclusion for individuals with varied cognitive and behavioral abilities. Produced by the Vanderbilt Kennedy Center at Vanderbilt University.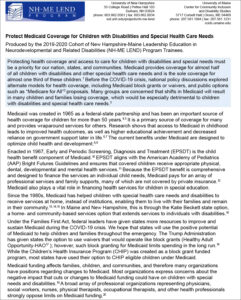 Protect Medicaid Coverage for Children with Disabilities and Special Health Care Needs (March 2020). Policy brief by the 2019-2020 Cohort of New Hampshire-Maine Leadership Education in Neurodevelopmental and Related Disabilities (NH-ME LEND) Program Trainees. University of New Hampshire, Durham; and University of Maine, Orono.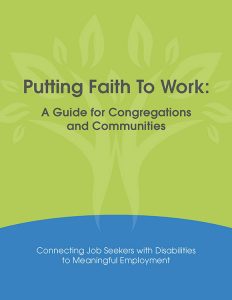 Putting Faith to Work: A Guide for Congregations and Communities – A ​model​ ​for faith communities to address the employment needs of some of their members by connecting people with disabilities to quality employment opportunities through the natural networks represented by congregational members.​ Developed by four University Centers for Excellence in Developmental Disabilities​ in TN, KY, TX and MN with funding from the Kessler Foundation.
​

Self-Advocacy Regional Technical Assistance Center (SARTAC) – A national ​resource ​c​enter for ​s​elf-​advocacy​ organizations ​established by Self-Advocates Becoming Empowered (SABE) with funding from the Administration on Intellectual and Developmental Disabilities​.​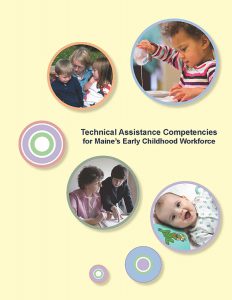 Technical Assistance Competencies for Maine's Early Childhood Workforce (PDF) – A resource to support​​ an integrated, cross-system and cross-sector professional development system​ ​whose ultimate goal is to provide high quality services to young children and their families.​​ Developed​ with funding from an​​ Early Head Start/Child Care Partnership Grant​ to Kennebec Valley Community Action Program.
​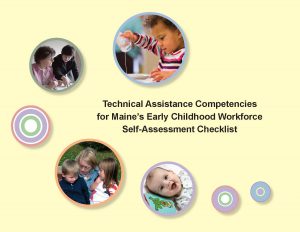 Technical Assistance Competencies for Maine's Early Childhood Workforce Self-Assessment Checklist (PDF) – A companion document to Technical Assistance Competencies for Maine's Early Childhood Workforce to assist TA professionals ​with​ assessing their skills within the five competency areas (professionalism, principles of adult learning, building relationships, the technical assistance process, and systems knowledge). The free Adobe Acrobat Reader DC is required to complete the checklist electronically. Please download How to Use the Fill & Sign Tool in Adobe Acrobat Reader DC (PDF) for step-by-step instructions.
Visual Supports Learning Links and Templates – These resources are intended as a starting point to learn more about visual supports and to offer templates and suggestions to begin creating your own visual support materials.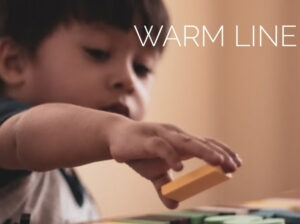 The Warm Line (not a hotline!) is a free and confidential resource that provides NON-emergency person-to-person support for early childhood and school age professionals in Maine. The warm line is jointly staffed by inclusion, health, and mental health consultants from Maine Roads to Quality Professional Development Network and the University of Maine Center for Community Inclusion and Disability Studies. To contact the warm line, please email mrtq.warmline@maine.edu or call toll-free 1.844.209.5964.