Part 3: I am Ready to Apply for a Child Care License

Complete and submit application – Child Care Application (Word).

Pay Application fee, if applicable.
Submit your floor plan with your application.
A floor plan is generally defined as: In architecture and building engineering, a floor plan is a drawing to scale, showing a view from above, of the relationships between rooms, spaces, traffic patterns, and other physical features at one level of a structure. Dimensions are usually drawn.
For licensing purposes, you should have an accurate reflection of the home where the child care will be housed (including the areas that will be used for the child care).
Example (for reference only):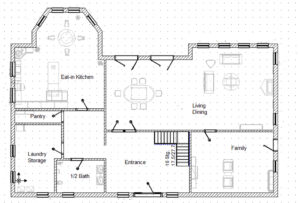 You should also include the Authorization for Release of Personal History Information (listed on the back of the application, depicted below) with your application.
Please Note: If your check is returned to Children's Licensing and Investigation Services due to insufficient funds, the licensing process will be suspended until payment is received and processed.
Incomplete applications on which no action has been taken by the applicant shall be void after 60 days.
What Happens After You Submit Your Application?
Your Child Care Licensing Specialist Will:
Contact you shortly after you have sent in your application.
They will ask about your progress in completing previous steps and your proposed opening date.
If you want to be licensed for 13 or more children, contact Plans Review at the State Fire Marshal's Office; 207-626-3880 or visit the Maine Office of State Fire Marshal's website.
Applicants must apply for a construction permit and receive approval through the State Fire Marshal's Office in order to use new or existing buildings for child care.
Plans Review will tell you about fire safety measures the building may need. An inspection will be requested by Child Care Licensing and Investigation Services after a Child Care Application has been received.
An inspection by the State Fire Marshal's Office will be conducted prior to the issuance of a license.

After you submit your application, Children's Licensing and Investigation Services will contact the State Fire Marshal's Office (SFMO) to request an inspection of your home.

After inspection, the Fire Marshal may send you a List of Deficiencies and ask you for a Plan of Corrections. This is a plan that must be returned within 10 days to the Fire Marshal's Office. In your plan you will specify a reasonable time frame to address your deficiencies. The Fire Marshal will either approve or ask you to revise your plan. Please remember to sign and date your plan.
Licensing cannot proceed until your home has passed the Fire Marshal's inspection. If you have questions the SFMO phone number is 207-626-3880.
A guide to fire safety in child care from the Office of State Fire Marshal.
The Child Care Licensing Specialist Will Make an Appointment to Inspect Your Home.
The Child Care Licensing Specialist will:
Inspect the entire home and grounds for safety.
Complete a Bureau of Motor Vehicles driving record check, if you indicate that you plan to transport children.
Provide sample forms such as Medication Permission and Child Record forms as needed.
Provide resource information useful to Child Care Providers.
Perform a lead hazards survey. Please see information about Lead-Safe Child Care (PDF) available on the website.
Verify MMR (Measles, Mumps and Rubella) immunity (vaccination record or titers) on file for staff born after 1956.
Verify staff vaccination for Tetanus/Diphtheria (vaccination must be within the last 10 years).
Inform you of what needs to be done in order to qualify for a license.
Provide you with a copy of their inspection which lists items pending.
Provide proof of completion of a Department approved transportation training for staff who transport children (if applicable).
If you checked on your application that you use a private water source, Children's Licensing and Investigation Services will need a copy of a water test completed by one of the approved labs.
Fluoride,
Uranium,
Arsenic,
First-draw lead sample,
Nitrates, and
Total coliform bacteria.
Facilities and Family Child Care applicants serving water from a municipal public water system well must demonstrate satisfactory water quality by collecting and testing one first-draw lead sample prior to receiving a license. The sample container must be from a Maine-certified laboratory and consist of a one-liter capacity.
Anyone serving 25 people or more (children and staff) on a private well must be on a public water system. Maine DWP – What is a Public Water System?
If all requirements for licensure have been met, the Child Care Licensing Specialist will recommend licensure subject to supervisory approval.
As you were guided in the beginning, spend more time getting to know the appropriate Licensing Rule. Current Rule books can be found at: